How to create and start using your first TON wallet?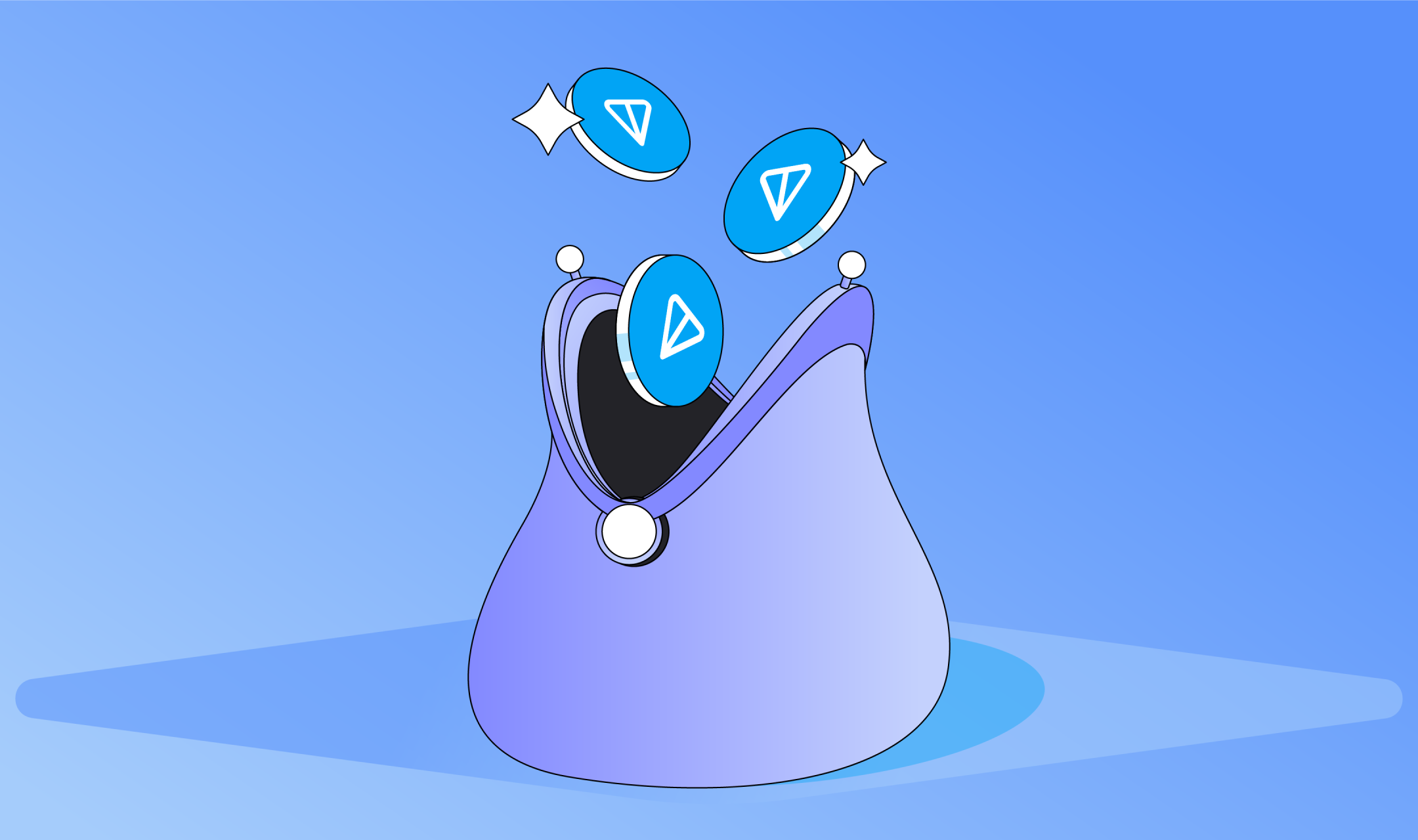 Let's explore the many wallets available in TON's Ecosystem that enable our growing user base to keep their digital token holdings safe. Here, you will find a step-by-step guide on how to use a variety of wallets, including Tonkeeper, TON's most popular wallet.
We will also review some non-custodial wallets, and the @wallet custodial service. If you are not familiar with the difference between these wallet types check out this post.
Briefly, non-custodial wallets provide users with complete control of their cryptocurrency and prevent parties from seizing, blocking or freezing your account.
Contrastingly, custodial wallets store your coins with a custodian – similar to a bank account managed through a mobile app. Custodial services are generally considered less secure but more convenient and friendly for novice users.
Let's start!
@wallet
This is the only custodial wallet in our list. @wallet, an independent entity operating in the TON ecosystem, is an extremely convenient and simple cryptocurrency wallet, which can be used directly from your Telegram app. With @wallet, you can save time and effort which would otherwise be spent understanding the complex process of creating a non-custodial wallet, reading whitepapers, etc. Moreover, @wallet eliminates the risk of forgetting your private keys. By being seamlessly integrated into a Web2 communication app, @wallet offers an easy onboarding experience to the world of Web3
@wallet is one of the core services in the TON Ecosystem, as it is particularly suitable for blockchain novices.
With @wallet, you can:
– Create an account in less than a minute without leaving your Telegram app.
– Effortlessly manage one's crypto assets with an intuitive web interface, designed for seamless navigation and ease of use.
– Store, receive, and send Toncoin with a single click directly in a Telegram chat with friends and other users.
– Store, receive, and send Tether tokens USDT (TRC20), as well as exchange it for Toncoin (TON) and back directly within the messenger.
If you have never used crypto applications before, @wallet will probably be the easiest entry point into the blockchain world for you.
Tonkeeper
This is among the most popular non-custodial wallets in TON Ecosystem. At the end of the article, we have attached a short guide for installing and using Tonkeeper.
Decentralized browser: using Tonkeeper, you can interact with a variety of decentralized TON applications (for example, you can buy a TON NFT directly with your wallet).
Fast app performance.
Intuitive interface.
Built-in options for buying, selling, and exchanging Toncoin.
Capability to store and transfer NFTs and altcoins based on TON.
OpenMask
If you have past experience with cryptocurrency, then you are probably familiar with Metamask, one of the most popular browser wallets.
OpenMask is the TON analogue of MetaMask, and features a similar architecture but with many modern updates.
OpenMask is supported by TON Foundation and is pursuing open-source development. If you are accustomed to working with crypto through a computer and Google Chrome browser, OpenMask will be the perfect fit for you!
SafePal
The SafePal hardware wallet was the first cold storage device to support Toncoin. In simple terms, a hard wallet is a small device similar in size to a flash drive, where you can store your coins securely. While the cold method is considered the most reliable way of storing digital assets, it can be inconvenient.
If you plan to store large amounts of crypto, the wallet services provided by SafePal may be a choice worth considering. The device supports 15 languages, more than 54 blockchains, and a huge number of different cryptocurrencies. SafePal currently has more than 6 million users from 196 countries.
Tonhub
Another non-custodial wallet based on TON developed by the TON Whales team. You can install Tonhub following this instruction.
Tonhub has a great design and similar elements to Tonkeeper, but also includes a couple of unique features:
– Toncoin staking directly through the application interface.
– Token Builder: a feature that enables users to create their own cryptocurrency based on TON (however this option is only available to members of the TON Whales club).
TON Wallet
TON Wallet has an extremely simple design, limited functionality, and is mainly suitable for storing and sending Toncoin to other users.
If you only need an app for basic coin transfers, TON Wallet is perfect for you!
Moreover there is currently an ecosystem-wide competition to create a new version of TON Wallet. It is likely that in the next few months we'll see an improved version of this wallet.
MyTonWallet
Another non-custodial TON wallet. MyTonWallet is a mobile app and browser extension for Chrome.
This wallet allows you to store Toncoin, TON-based altcoins, and TON NFTs like general crypto wallets. However, MyTonWallet was the first to offer a staking function with an official smart contract.
Currently, TON holders with 10,000 coins or more can make their first staking through the MyTonWallet interface. A new version of the official smart contract is expected to go live soon where the deposit threshold will be significantly reduced.
C98 and Math Wallet
These multi-chain, non-custodial wallets are not part of TON Ecosystem, but are compatible with The Open Network (TON) and Toncoin.
If you are already using either of these two services, it will be easy and convenient for you to store your Toncoin there. https://coin98.net/what-is-ton-wallet
If you are just starting to get acquainted with TON Ecosystem, we recommend using one of the wallets presented above, such as Tonkeeper.
How to create a Tonkeeper account?
Step 1: Download the Tonkeeper wallet
Go to the Tonkeeper website or find it in an app store and download the latest version of the wallet.

Step 2: Create a new wallet and write down your seed phrase
A seed phrase is a set of 24 words that acts as a password for non-custodial cryptocurrency wallets. Be sure to write down the 24 secret words in the correct order on a piece of paper. This seed phrase will allow you to restore your wallet if you accidentally delete the application. Keep the seed phrase in a safe place – losing it will result in permanent loss of access to your assets.
Never store a seed phrase in a computer or phone: there are malicious programs that can recognize seed phrases.
Step 3: Verify your seed phrase
Enter the words in the correct order.
Step 4: Create and confirm a passcode to access the application
This is a typical passcode like those used in any other application.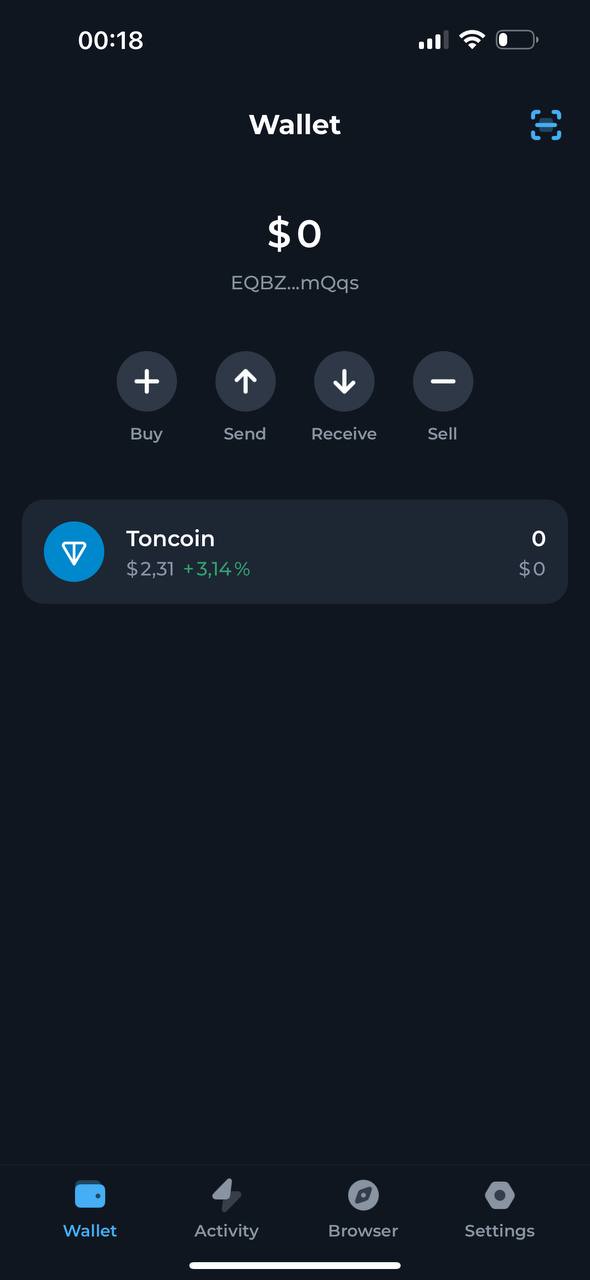 It's ready! You now have your own wallet!
How to get your first Toncoin?
The easiest way to buy Toncoin is arguably through Tonkeeper. To do this, go to the "Browser → Exchanges" tab, and select an exchange service.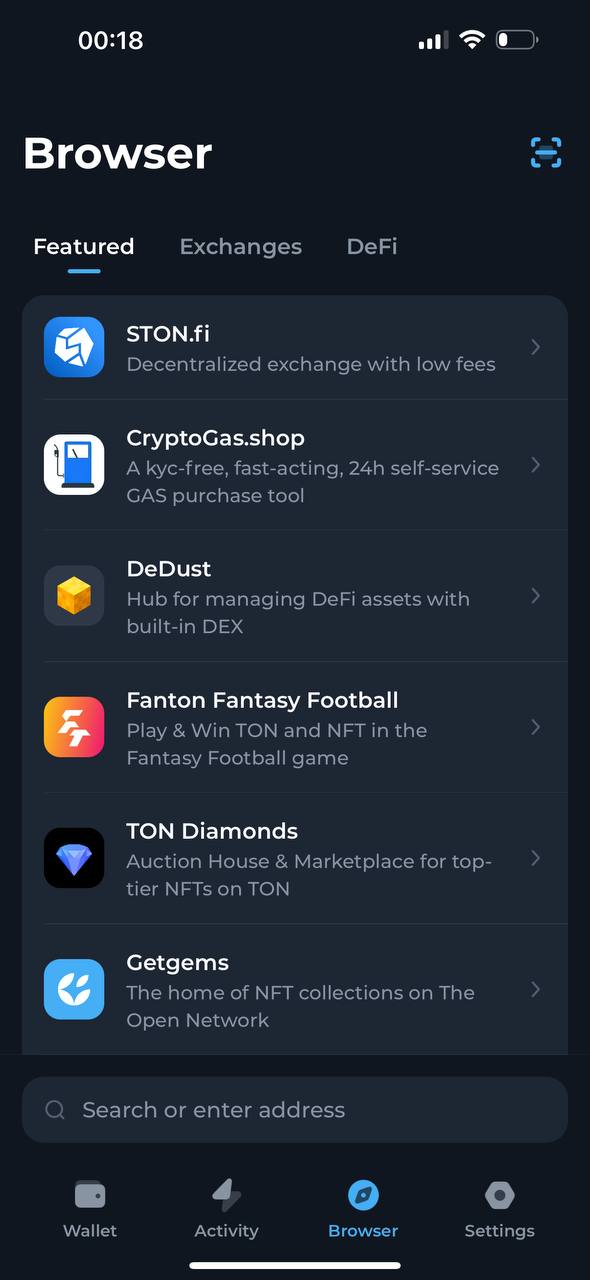 However, keep in mind that there are lots of ways to purchase TON and many of them are described in this post.
Tonkeeper is more than just a "wallet"
Tonkeeper is a fully-fledged Web3 service with extensive functionality. We recommend exploring the app to discover how you can store your NFTs and other TON-based tokens, interact with decentralized sites such as NFT marketplaces and DEXs, and even invest in TON projects.
Conclusion
TON Ecosystem offers a variety of wallets, each with its unique features and capabilities. We provide multiple user-friendly gateways to help you obtain access to the world of blockchain and cryptocurrency, regardless of your level of expertise in the field. Getting involved requires just a few clicks!
Also, don't forget that your 24-word seed phrase can be used with any of the TON wallets listed above and everything will work as usual. In other words, if you are tired of one service, you can easily switch to another!
The complete list of TON wallets can be found on this page: https://ton.org/en/wallets
Please do not download or use any wallets that are not listed in the official TON resources.