TON Ecosystem Evolved: Introducing Telegram Apps Center (tApps Center)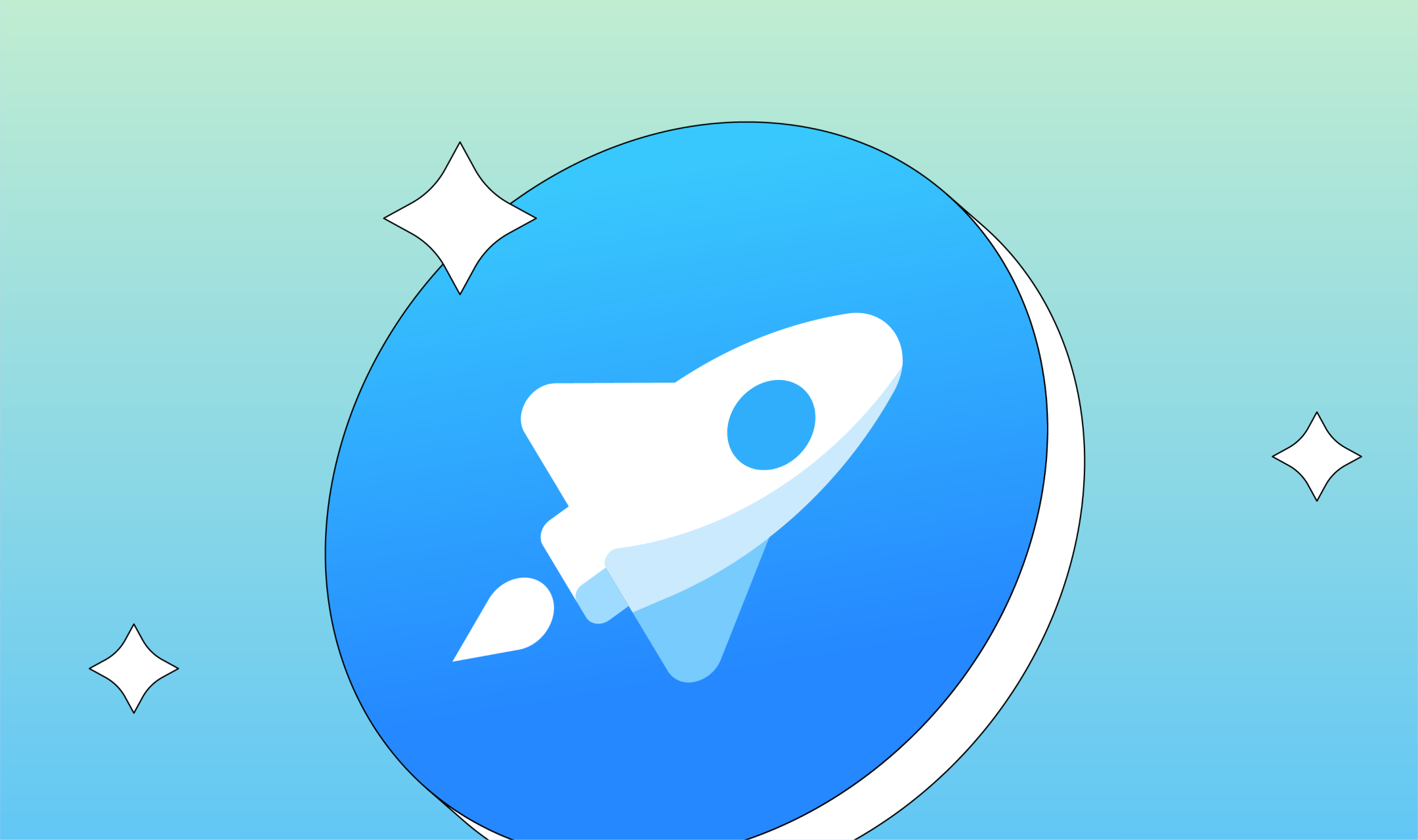 The digital age has seen many apps and bots that enhance user experience, especially on platforms like Telegram, and this trend has grown significantly over the past years.
According to Binance Research, the cumulative lifetime volume of trades facilitated on Telegram bots has exceeded US$190M, with a record high of US$10M in daily trading volume recorded on July 23, 2023.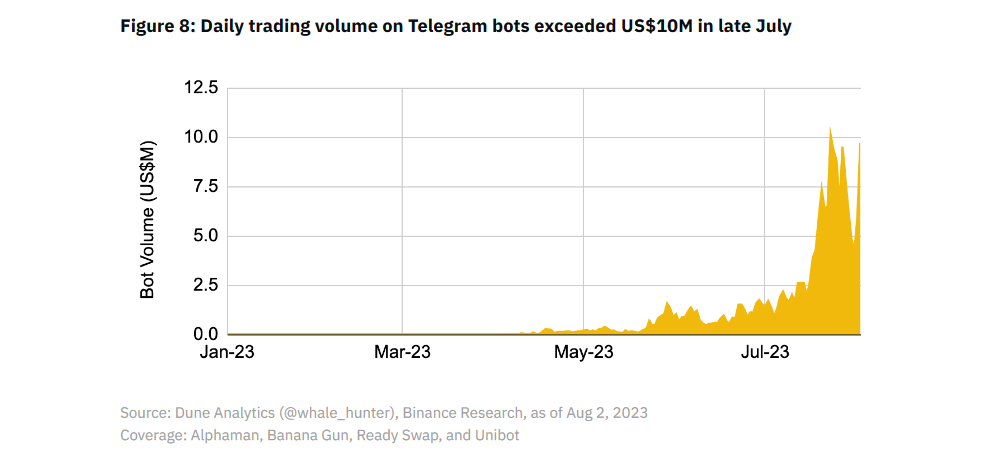 Among the most popular Telegram-based bots are trading bots but also chatbots used for automated replies and customer support. Other use cases of Telegram-based apps include online stores, content creation, news sharing, weather forecasting, and even payments.
Recognizing this and understanding the need for a centralized directory, the TON Foundation is introducing the Telegram Apps Center. This center aims to offer a catalog showcasing the Telegram Bots and Web Apps (TWAs) ecosystem. Our goal is to keep user experience at the forefront, and the Telegram Apps Center does just that by providing you with an interface familiar with established apps stores that you already use daily.
To focus not only on the TON ecosystem but the wider Telegram ecosystem, the center welcomes apps from other chains and, without any web3 integration at all, truly embraces the community spirit. By doing so, it aims to be a beacon for the vibrant projects building on Telegram, drawing the attention of a broader audience and ultimately building the so-called "Everything Super App" within the Telegram ecosystem and TON. To simplify this, think of social media platforms such as WeChat, where you can access all the financial, social, and entertainment services you need within one user interface.
Exploring the tApps Center
On the Telegram Apps Center, you can find three main types of projects:
Bots – These are typical chatbots, like Unibot, which users can engage with through the chat feature. They cater to various tasks, from basic information sharing or weather forecasting to intricate tasks like detecting trading cues or facilitating trades.
Games – Bots and apps tailored for gaming, like the recently launched Hero Blaze, are curated to offer interactive game sessions. They host diverse games and tournaments, allowing users to participate alone or team up with friends.
Web Apps – Representing the new wave of bots, these come with a web-centric interface, mirroring traditional websites. Notably more sophisticated and flexible than their chatbot counterparts, an exemplar of this category is @joincommunity_bot - a web app-based toolkit structured for community-centric applications and more.
These projects are then categorized into four main categories based on their specific use case – Management, Web3, Utilities, and Games.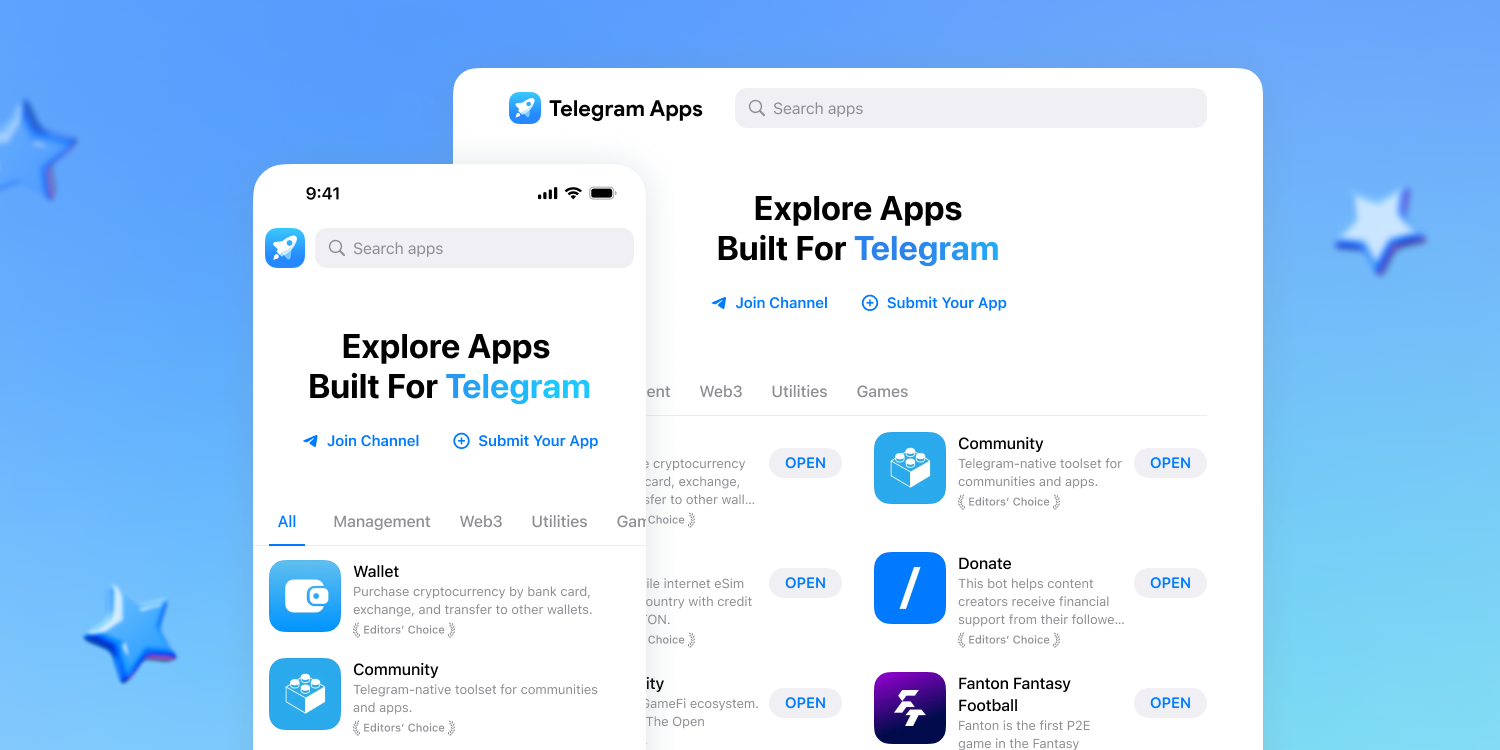 From here, you can simply access the app by clicking "Open," which will open a pop-up redirecting you to their Telegram channel or bot. From there on, you will be guided within the Telegram messenger. Please note that some apps, specifically games, might require you to open a tab in your browser to access the user environment.
To access the tApps Center, simply select one of the links below:
Build on Telegram with tApps Center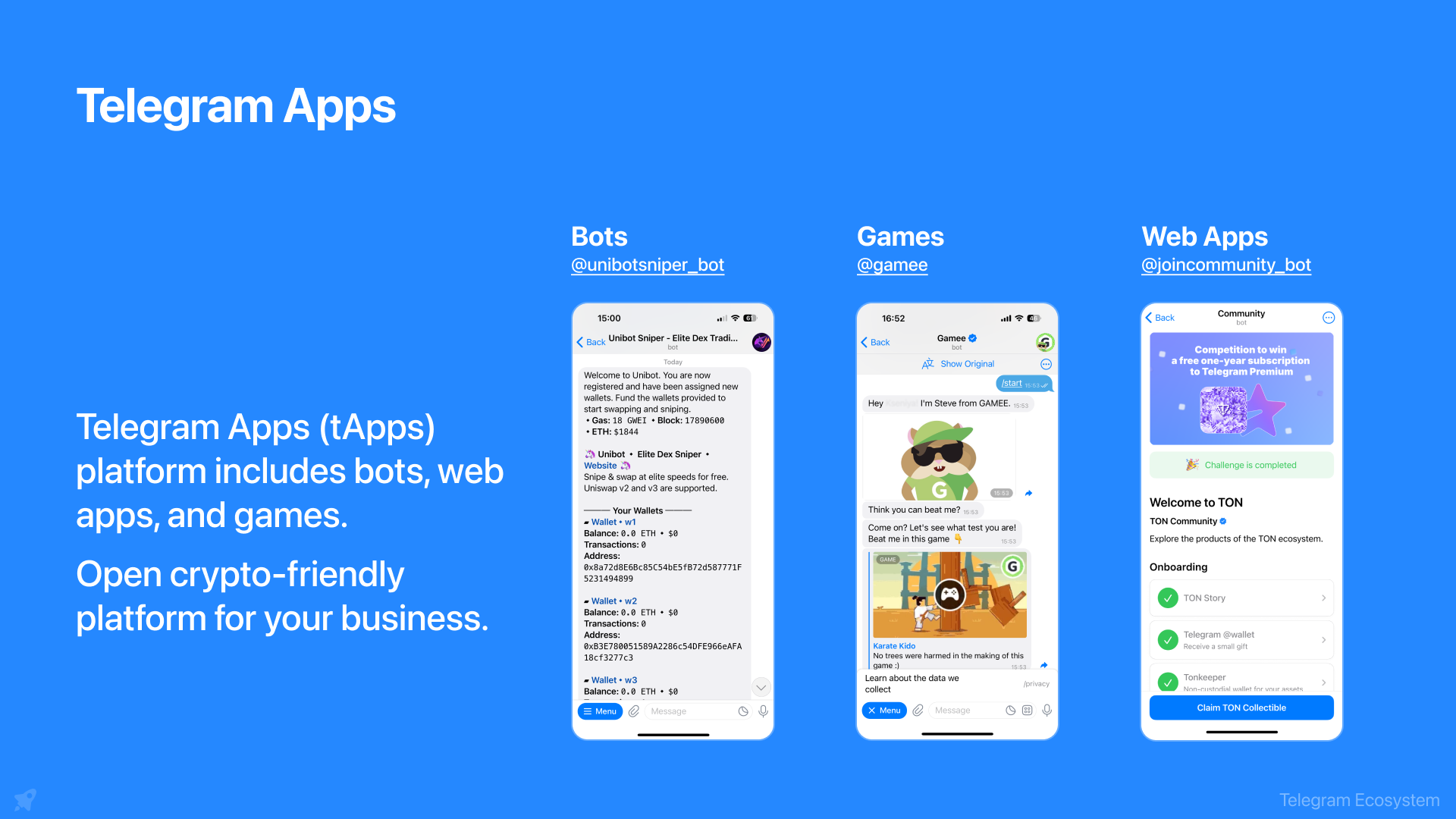 The tApps Center aims to simplify the exploration of tApps and support developers in bringing their visions to life and attracting new audiences. A seamless submission procedure, aided by the dedicated Apps Moderation Bot, ensures this.
By working with Telegram's platform, developers can access its vast community of users and existing tooling. Prioritizing user privacy and security, the center offers a reliable space for developers to present their novel creations and provide positive experiences to users.
By launching your next project on Telegram and adding it to the tApps Center, you will gain access to over 800M Telegram users. You can further boost your reach with Telegram Ads, accumulating more than 500 billion channel views. You can easily monetize your tApp by integrating the Wallet Pay payment system and enabling users to spend crypto and fiat. Wallet Pay also offers you an overview of your order statistics and allows you to withdraw funds to your wallet.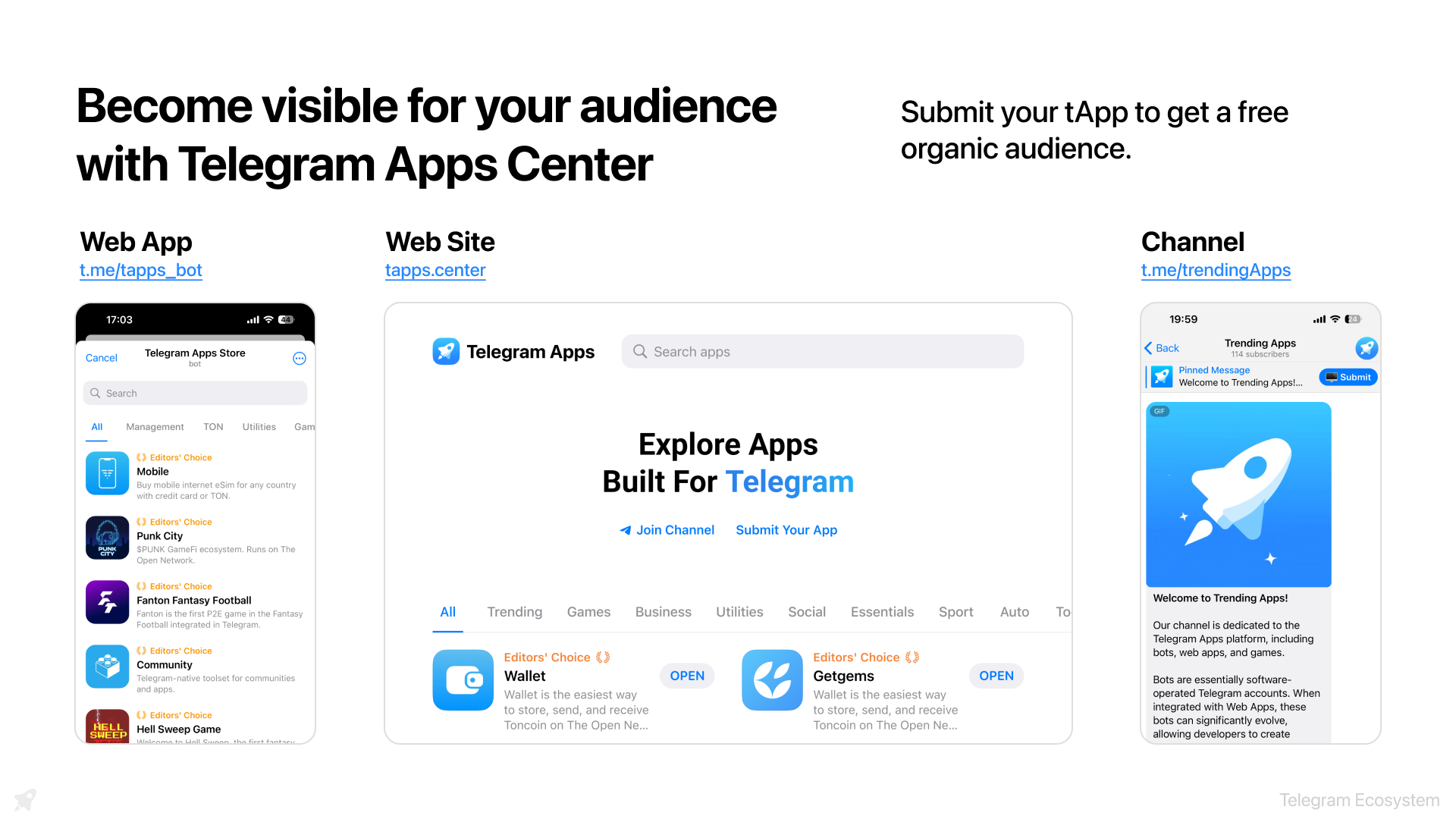 In addition to the existing support, documentation, and tools, we're already working on a new grant program to support tApps development. Stay tuned as we will announce the tApps grant program shortly, and it will be massive!
Valuable resources for building tApps