12 Jun
•
development
•
7 min read
Why You Should Launch Your Web3 Project on The Open Network (TON)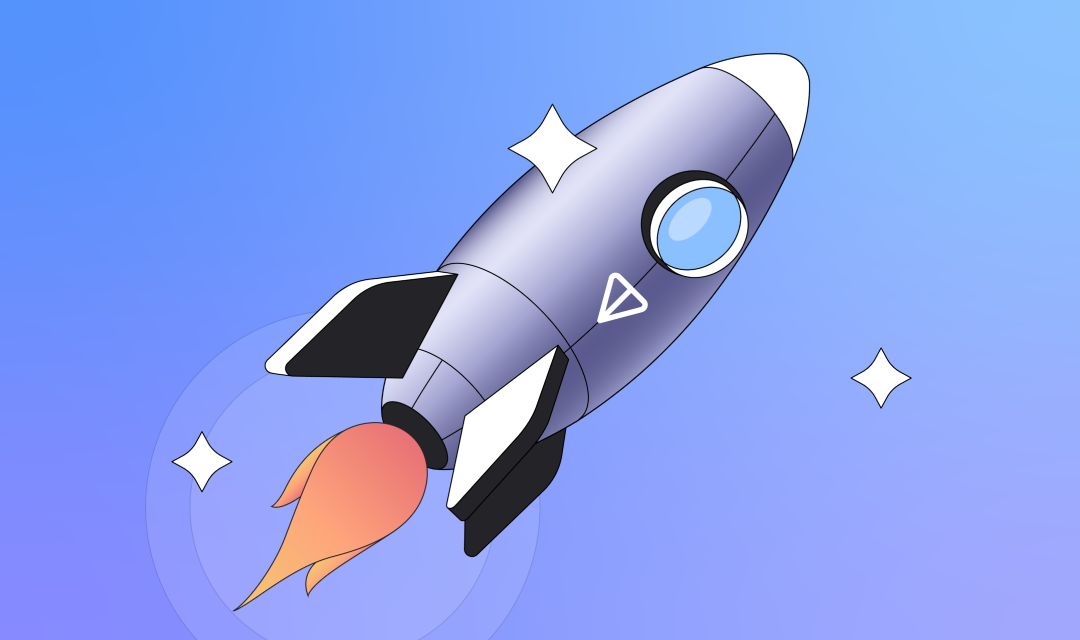 Web3 quickly became the new buzzword of the crypto communities, but even after years of development, it's still distant from its ultimate goal. We believe there are multiple reasons for this, but maybe the most significant is a lack of appropriate infrastructure. For Web3 to scale and develop products users want to use, it needs more grounded, long-term incentives beyond tokenized memes or a collective, albeit superficial, intent on seeing the "number go up."
Although various blockchain infrastructures aim to solve these issues and improve the otherwise obfuscated UX and UI that prevent everyday people from using non-custodial solutions, another strategy is for developers to create and build tools or services that enhance platforms with a thriving user ecosystem. One such example is The Open Network (TON).
This article will highlight why you should launch your web3 project on The Open Network.
What's TON?
In late 2018, the Durov brothers (founders of Telegram) introduced the first version of the TON whitepaper. While Telegram had to stop the active development of TON in 2020 due to regulatory issues, an open-source community kept the network alive, supporting new projects and ensuring the fruition of Telegram's original vision. Now TON, rebranded as The Open Network, operates a mainnet that offers swift, cost-effective, and environment-friendly transactions.
TON is a fully decentralized Layer 1 blockchain governed by TON Validators and TON Community Vote. At the time of writing, the ecosystem hosts over 530 dApps ranging from wallets to NFTs, explorers, bridges, and exchanges, with a total value locked (TVL) of around $18M.
Why TON?
While it may be challenging to compete with Bitcoin's and Ethereum's ever-alluring liquidity and communities - these blockchains, while (still) in their nascent state, are not without issues.
Coined by Vitalik Buterin, the blockchain trilemma describes a challenge of Layer 1 networks to simultaneously balance all core aspects of security, scalability, and efficiency. A tradeoff has to be made (at least upon launch). With Bitcoin, for example, we can see that Proof of Work (PoW) helps provide strong security and more decentralization, but its transactions are slower and can get expensive. And Ethereum, while recently migrating to Proof-of-Stake and hosting more Layer 2s like Optimism and Arbitrum, still suffers from high gas fees during periods of network congestion.
In short, hardly any chain, Layer 1 or 2, can compete with traditional banking and finance in their current state, not to mention a range of balanced, pragmatic incentives like privacy and security.
Flexible & shardable PoS architecture
As with Solana and Ethereum, TON uses Proof of Stake consensus. However, TON's key design and implementations allow it to come out ahead on performance and versatility. With its Turing complete smart contracts, one example is its asynchronous blockchain which introduces ideas like Lamport time and unconventional ordering schemes.
TON's lightning-fast, low-cost transactions are supported by the chain's flexible and shardable architecture. This architecture allows it to scale easily without losing performance. Dynamic sharding involves initially developed individual shards with their own purpose, which can operate simultaneously and prevent large backlogs. TON's block time is 5 seconds, with a time-to-finality of under 6 seconds.
The existing infrastructure is split into two main parts:
Masterchain - is responsible for handling all of the important and vital data for the protocol, including the parameters as well as the current values. This includes all of the details, such as the addresses of the validators, as well as the coin stake quantities for validations. Furthermore, it features all of the data of the various Workchains and Shardchains. In a multi-layered blockchain, the masterchain is the most important; a single point of truth.
Workchain- secondary chains that connect to the masterchain. It contains all of the transaction information, as well as the various smart contracts which are recorded. However, each Workchain can have different rules. This means that addresses with different formats, different transaction formats, as well as different Virtual Machines (VMs) are dedicated to specific smart contracts. It is due to this that the TON blockchain can be called heterogeneous.
Expanded use cases and benefits
TON Foundation, a DAO operated by TON's core community, offers various benefits to projects in the TON ecosystem. These include support for developers through events and hackathons, a liquidity incentive program for DeFi projects, and more.
Symbiotic Relationship Between Web2 and Web3
To close on a final reason to deploy with TON, one must recognize the ecosystem that is Telegram itself. Deploying your Web3 project on TON offers the advantage of Telegram's massive user base, with over 700 million monthly active users. This integration provides a fertile environment for decentralized apps to thrive, similar to how platforms like Apple's app store and Steam support developers.
To better understand its importance, consider the following analogy: Symbiotic relationships are fundamental in nature, whether it's the mutualism between clownfish and anemones or the parasitic nature of viruses. These relationships are crucial in shaping the biodiversity of our planet and are key drivers of evolution. Through networking and cooperation, species in symbiotic relationships can enhance their survival capabilities beyond what they could achieve individually. This also applies to tech and Web3 in particular, where to thrive, the Web3 ecosystem must achieve symbiotic relationships between the different participants.
These symbiotic relationships in tech promote collaboration and result in synergistic outcomes that benefit all participants, ultimately leading to advancements and improvements in the Web3 landscape.
Overall, developers can benefit from access to the user base of major social networks such as Telegram, while not having to compromise on incentives or values to build a robust future for their decentralized apps.This integration provides an optimal environment for a decentralized world to flourish, underlining why TON is a strategic choice for developers seeking to deploy their projects on an open network.