Building a Web3 Ecosystem in Telegram with Toncoin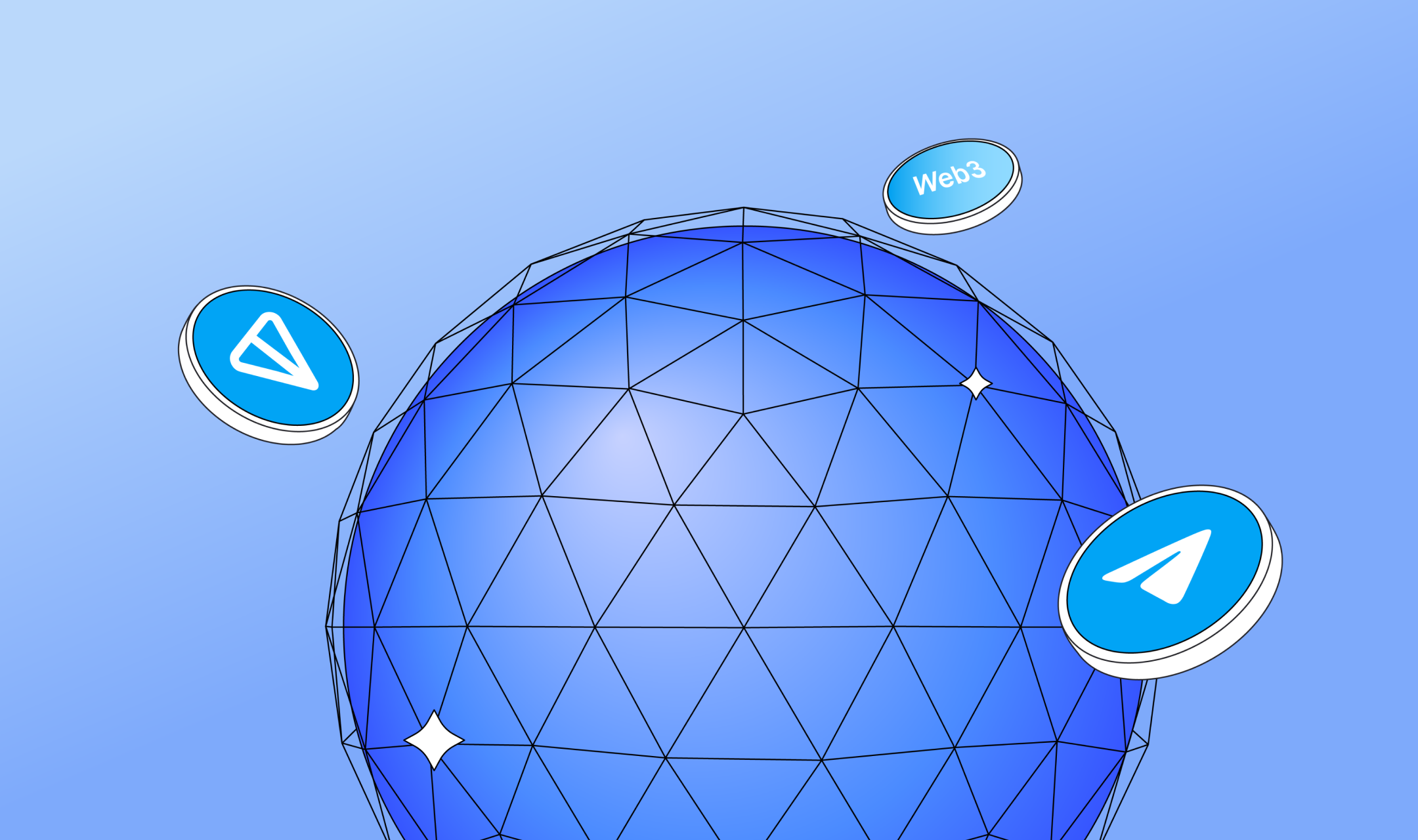 On September 13, during the TOKEN2049 conference in Singapore, TON Foundation (TF) and Telegram made a groundbreaking announcement. They revealed that TF facilitated a new initiative where the TON Community will work closely with Telegram, the popular messaging platform with over 800M monthly active users, and enjoy native integrations and promotions within the Telegram User interface.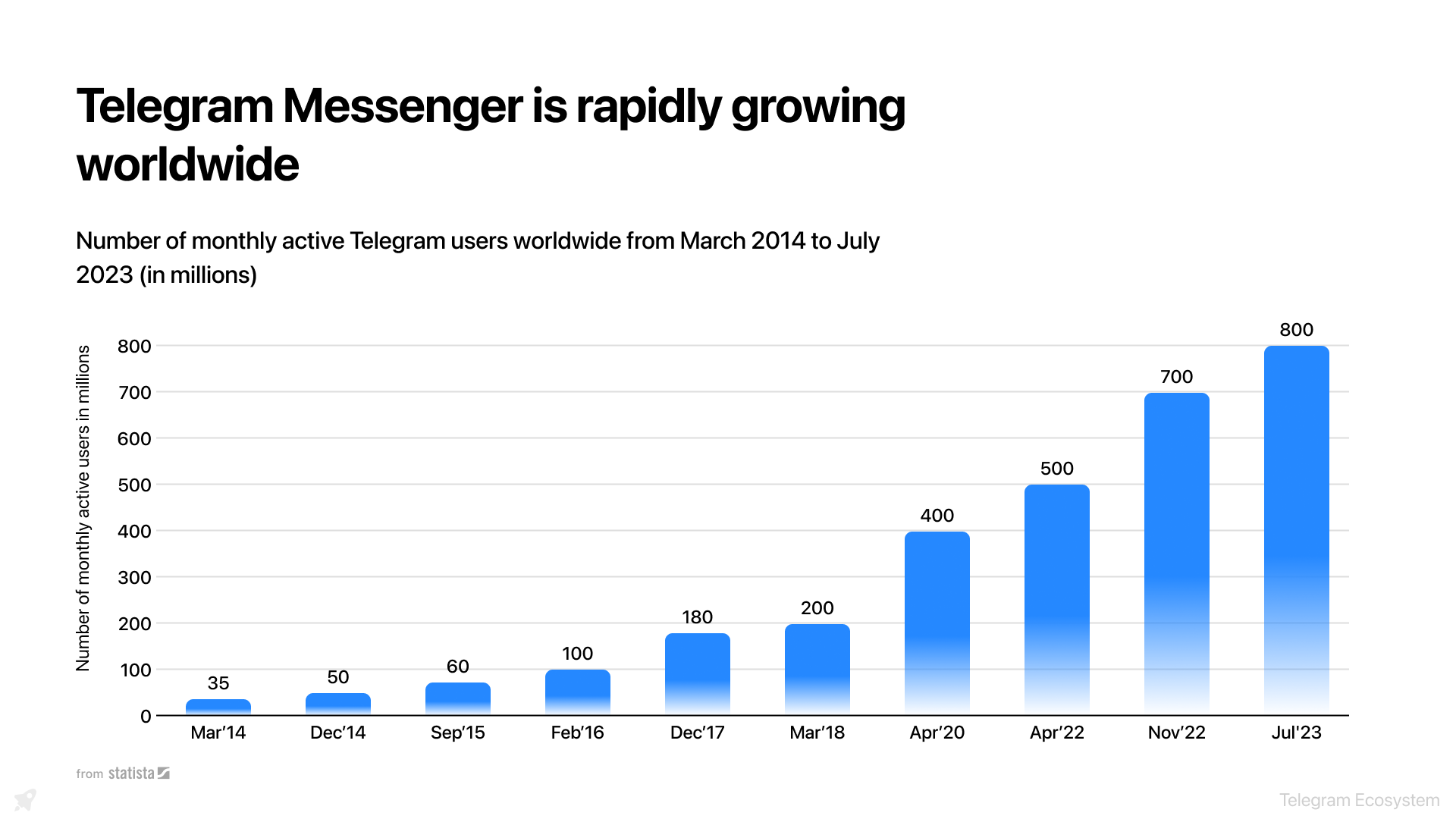 This promotion is a historical milestone for the TON community, as Telegram will now enable TON Space, a self-custody Web3 wallet, for its 800M monthly active users (MAUs). On top of that, TG will now rely exclusively on The Open Network as its blockchain infrastructure. Toncoin and its Web3 ecosystem will now enjoy promotion within Telegram's native user interface and priority access to Telegram's global ads platform Telegram Ads.
The aim is to nurture and promote a TON-centric Web3 ecosystem in Telegram and develop the Telegram-integrated Wallet into an all-in-one platform for all your needs.
TON Space – A new self-custody wallet for Telegram
The most important part of this promotion is the public launch of the self-custodial version of @wallet in Telegram. From now on, the existing and new @wallet users can access TON Space and become sovereign holders of their private keys and assets – no middlemen and completely trustless.
TON Space is a new software wallet integrated directly into @wallet in Telegram's interface, allowing you to send, receive, store, and manage your assets without ever having to exit Telegram. The main advantage of TON Space is its non-custodial nature. If you're unfamiliar with the differences between custodial and non-custodial wallets, check out our article 'Explaining the Differences Between Custodial and Non-Custodial Wallets.'
Starting in November, TON Space will roll out to Telegram's 800M monthly active users by default, except for users from specific regions, such as the United States. This is a massive step towards the core mission of the TON Community - putting crypto in every pocket.
But the innovations don't stop there. To push things further, TON Space will support the transfer and display of NFT collectibles, positioning itself as an all-in-one wallet for cryptocurrencies and NFTs.
Bridging the Worlds of Web2 and Web3
The birth of cryptocurrencies, Bitcoin, in particular, offered the world an escape from centralized control, a tool to avoid abuse from trusted third parties and provide freedom of peer-to-peer transactions and interactions. The past 14 years are evidence of crypto's appeal as a buffer against excessive oversight and surveillance.
However, there's a catch: Today's cryptocurrency landscape mainly serves tech-savvy users or speculators, failing to accommodate most of the global population or provide real-world use cases. Furthermore, with the walled garden mobile operating systems curbing cryptocurrency apps and the slow progress of user-friendly Web3 platforms, it's no surprise many find it hard to dive into the ever-evolving world of Web3 and recognize its value.
Enter The Open Network. Distinctly different in its approach, TON aims to provide easy-to-use tools and reliable and stable infrastructure to make onboarding easy and develop massive distribution features for Web3. With Web3, we aim to empower digital ownership, adding a new dimension to communication between users on a transactional basis. Toncoin gives the masses the technology to protect their rights and freedoms as a cryptocurrency running on its native open-source, decentralized, permissionless, censorship-resistant, and community-driven blockchain.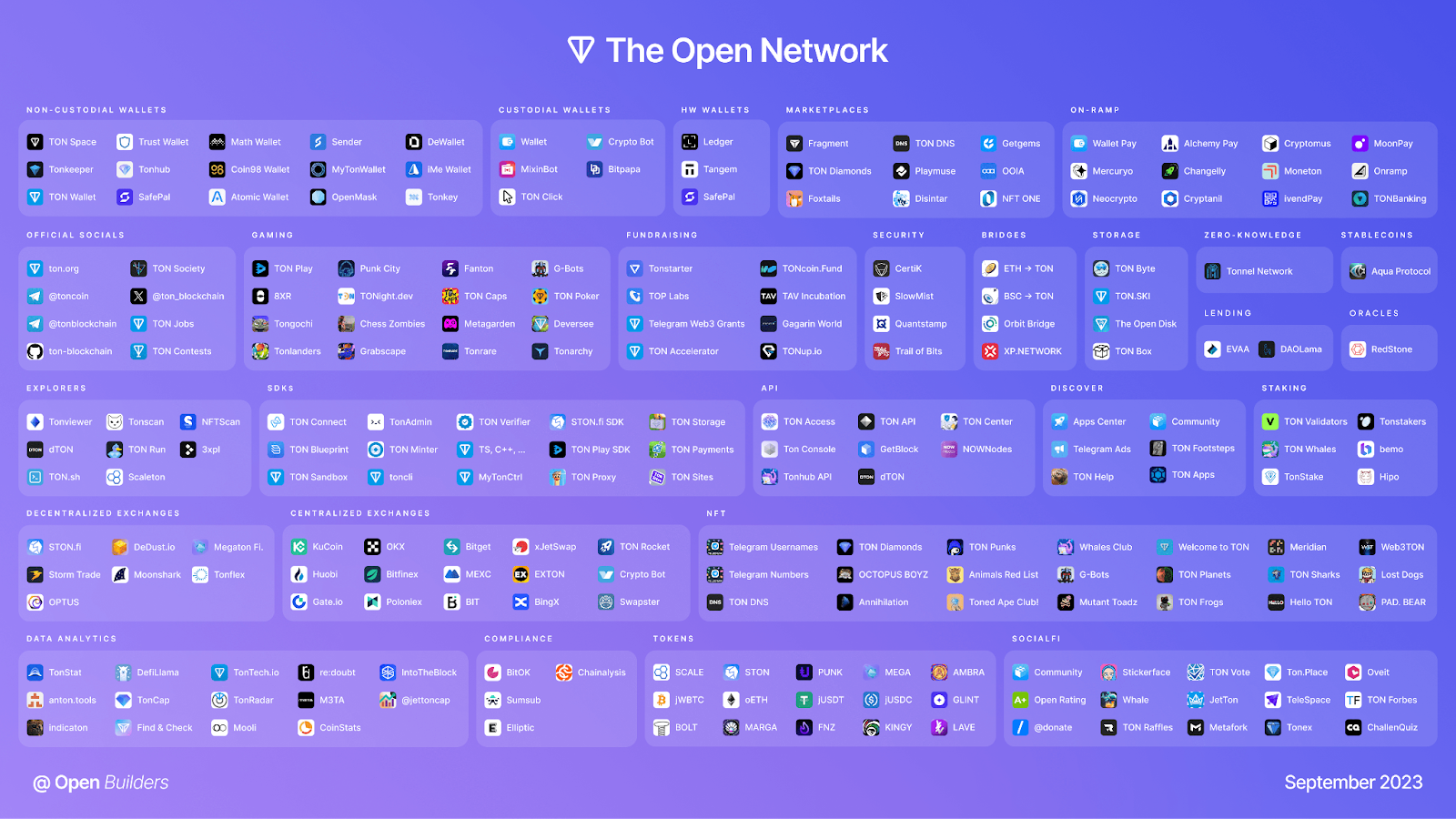 TON Ecosystem as of September 2023, source @Open Builders
Now combine this with Telegram's open platform approach, allowing 3rd party builders and mini apps to deploy directly in its messenger. With its crypto-friendly audience and constant new developments, building a Web3 ecosystem in Telegram is an obvious choice. Telegram's 800M monthly active user base is over 50 times bigger than 15 million Web3 users, as stated in a16z crypto's report. With access to a user audience of this size, the TONxTelegram promotion promises a massive boost in crypto adoption.
SuperApps – A one-stop-shop for all your needs
SuperApps like WeChat, Grab, or LINE provide convenient access to hundreds of online services, games, and shops, all within a single experience. The problem is they're focused on local markets and are not crypto-friendly. Existing SuperApps pose a risk to user data, asset ownership, and privacy by holding absolute control over the creator's content and profile.
Compare this with Telegram, a global, open, and crypto-friendly platform with over 37,000 active crypto communities. This new TONxTelegram initiative aims to provide the infrastructure for a Web 3 ecosystem in Telegram, effectively creating the first global and decentralized SuperApp.
The first building blocks in this direction are already laid. You can explore some of the tApps in the community-driven app catalog - tApps Center.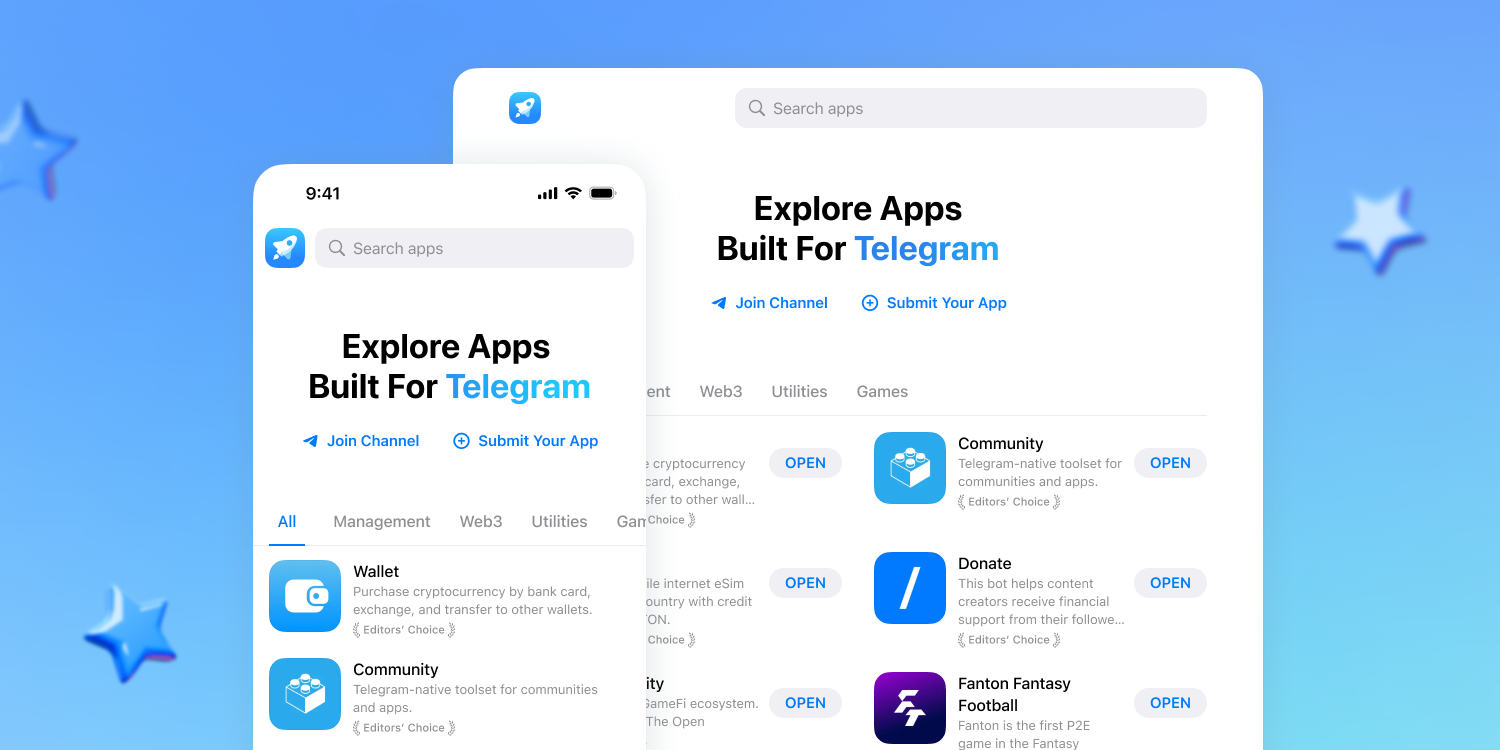 At its core, blockchain changes value distribution on the internet. With blockchain, value flows to the accounts that generate it, not to platforms that hold all the power like in Web2 as we know it. This is a paradigm shift challenging established Web2 business norms.
TONxTelegram has the potential to create a Global Web3 SuperApp. With TON, the ledger of accounts and Web3 infrastructure, and Telegram mini apps as the user experience layer.
TON's integration with Telegram and the integration of Wallet in Telegram will provide a perfect trifecta - a platform for builders to create Web3 mini apps, simple and intuitive to use, with all the viral mechanics Telegram is famous for, such as forwarding, inviting contacts, and sharing in group channels.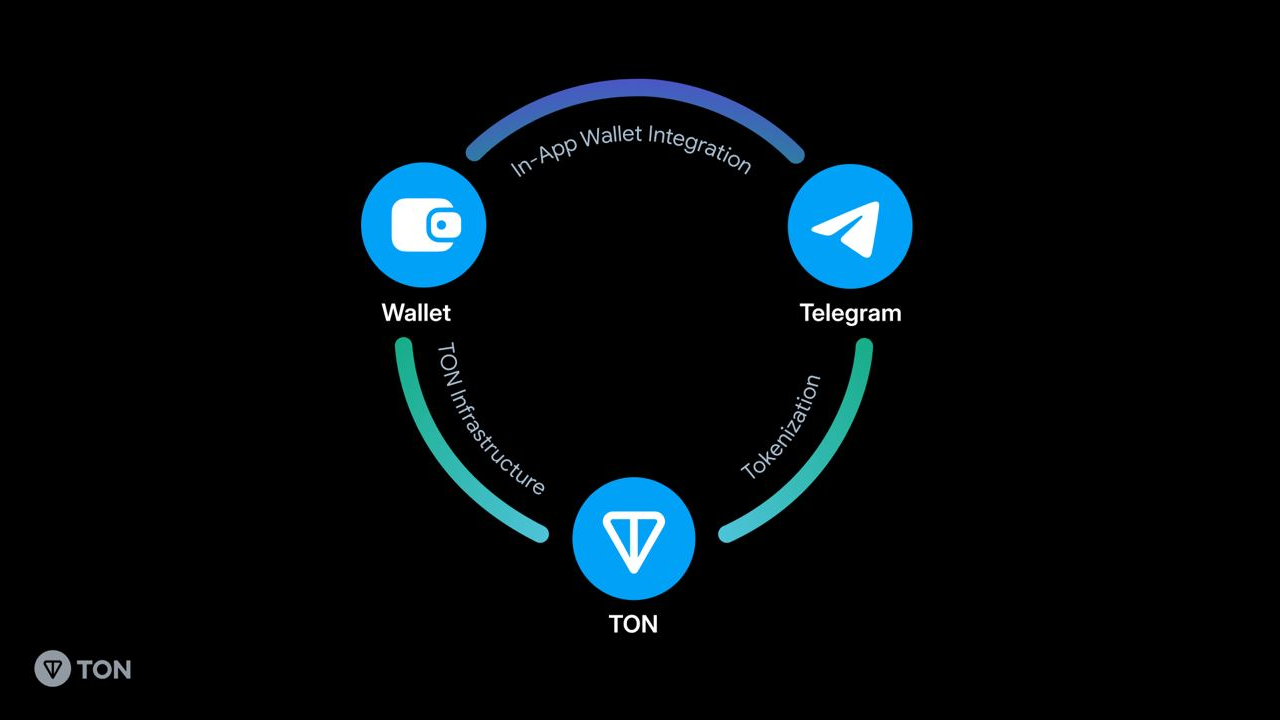 The TON SuperApp Trifecta
Telegram is currently on track to be actively used by 1.5 billion people a month in the next five years. If Telegram was a country, it would be the largest, most crypto-centric population on the planet.
Telegram Mini Apps, combined with Toncoin and Wallet on Telegram, have the potential to become more than just a network. It can become a decentralized digital nation with its own economy, citizens, digital property rights, currency, free markets and communication infrastructure, and many other services. It is easily accessible by anyone and anywhere and totally resistant to censorship or external control.
"Together, we are transforming Telegram to Web3 with Toncoin," said Steve Yun, President of the TON Foundation. "This is a critical breakthrough for our entire industry. On Telegram, crypto use cases will finally be able to find their users. TON ecosystem strives to provide a simple and intuitive user experience akin to that of popular social applications like Telegram. Sharing the same DNA, we invite all builders to join our journey to mass adoption."
This empowers users to gain ownership over everything from their assets to their online presence. This moment in history marks a unique convergence of technology and user experience, potentially making ownership of the internet a reality for billions.
The Future Ahead
The integration of TON into Telegram isn't just about technological advancements but a clear vision for the future. At a time when users are seeking more autonomy over their digital lives, TON will make a bold stride toward giving the power back to the users. It's about more than just convenience; it's about rewriting how we own our assets, interact, transact, and communicate online.
In the grand scope of things, this is the critical first step in building a world where Web3 isn't just for the tech-savvy but an intrinsic part of everyday life for billions of people. With Telegram's massive user base and TON's unconventional approach to Web3, the dream of a decentralized digital nation is not just feasible but imminent. The question is not if but when.
Join the TON Community to stand on the cusp of an exciting new era, where our digital identities are not just profiles on a centralized platform but integral components of a sovereign identity online. The TON Community's vision is to onboard 30% of Telegram users to TON by 2028, an estimated 500 million people, or more than 33 times the current active crypto users.
Only time will tell how these plans play out, but one thing is already clear – the world of Web3 will never be the same again.