TON Developer Report: Q1 2023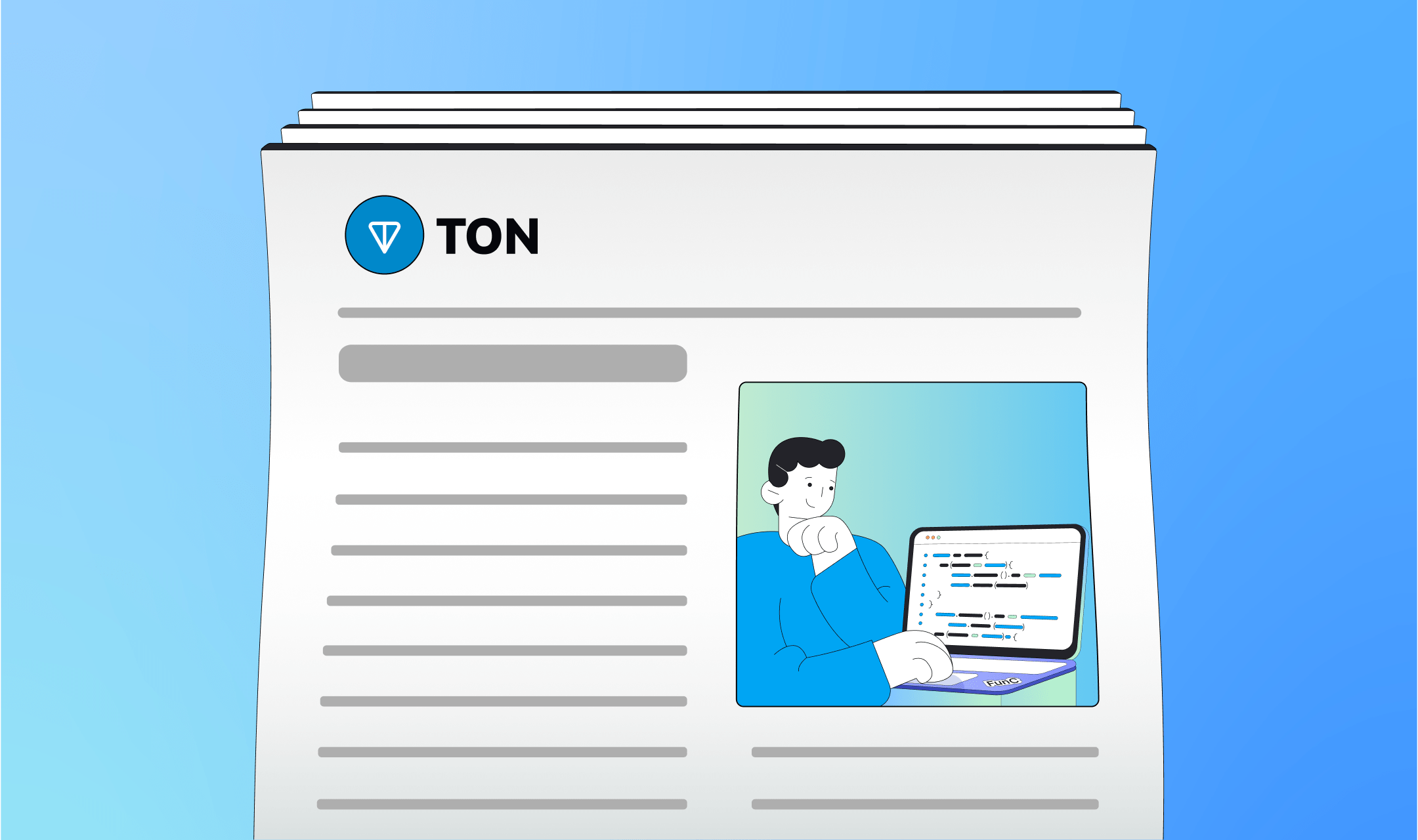 In the vibrant and ever-changing realm of the blockchain ecosystem, the TON Foundation is a leader in innovation, orchestrating the development of The Open Network (TON) and harmonizing the contributions of independent developers from every corner of the globe. It is the unwavering dedication of these visionaries that breathes life into TON, pushing the boundaries of blockchain's potential and shaping its real-world applications.
At the heart of this remarkable endeavor lies the community of TON – a diverse, passionate, and ambitious collective that fuels progress. The TON ecosystem thrives on the brilliance of its community and we are always eager to embrace the fresh ideas and perspectives that emerge from this vibrant tapestry. If you feel inspired to join our mission, we warmly invite you to connect with us in the TON Dev Telegram chat. Your valuable insights and feedback are the lifeblood that nourishes our pursuit of excellence.
TON community's unwavering commitment to progress is the driving force behind the adoption and growth of the TON blockchain and its underlying ecosystem. As we celebrate the fruits of our collective labor, we are excited to unveil the TON Developer Report Q1 2023. Together, let's immerse ourselves in the remarkable achievements that have been made possible by the power of our united community.
TON Metrics
The number of monthly active developers that contributed to TON-related open GitHub repositories increased by 57% (from 109 contributors on January 1st to 171 contributors by the end of March) in the first quarter of 2023.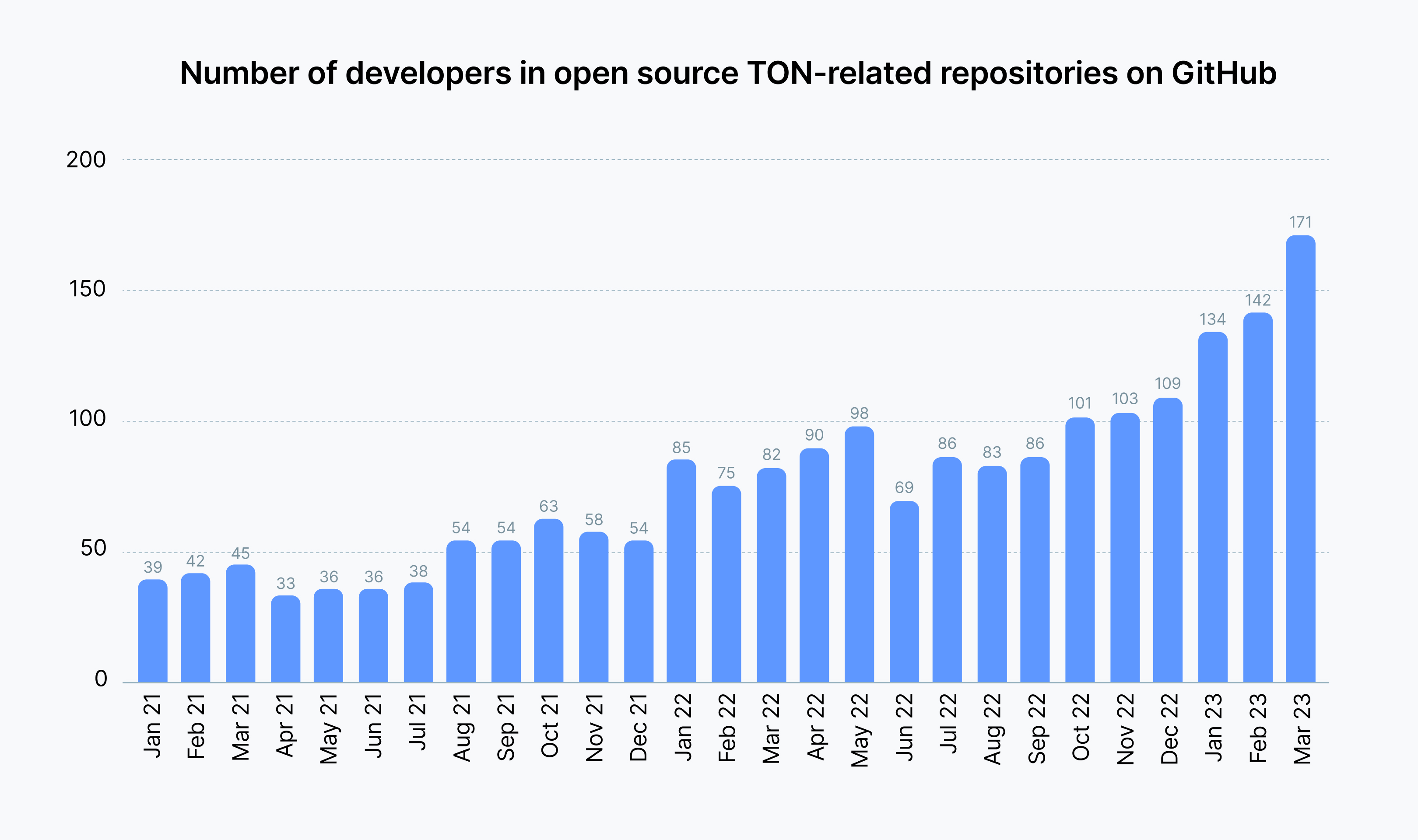 The number of active TON-related open GitHub repositories totaled 149 by the end of March, representing an increase of 39% in Q1 alone. A full list of TON repositories can be found in the TON Electric Capital repository detailed here.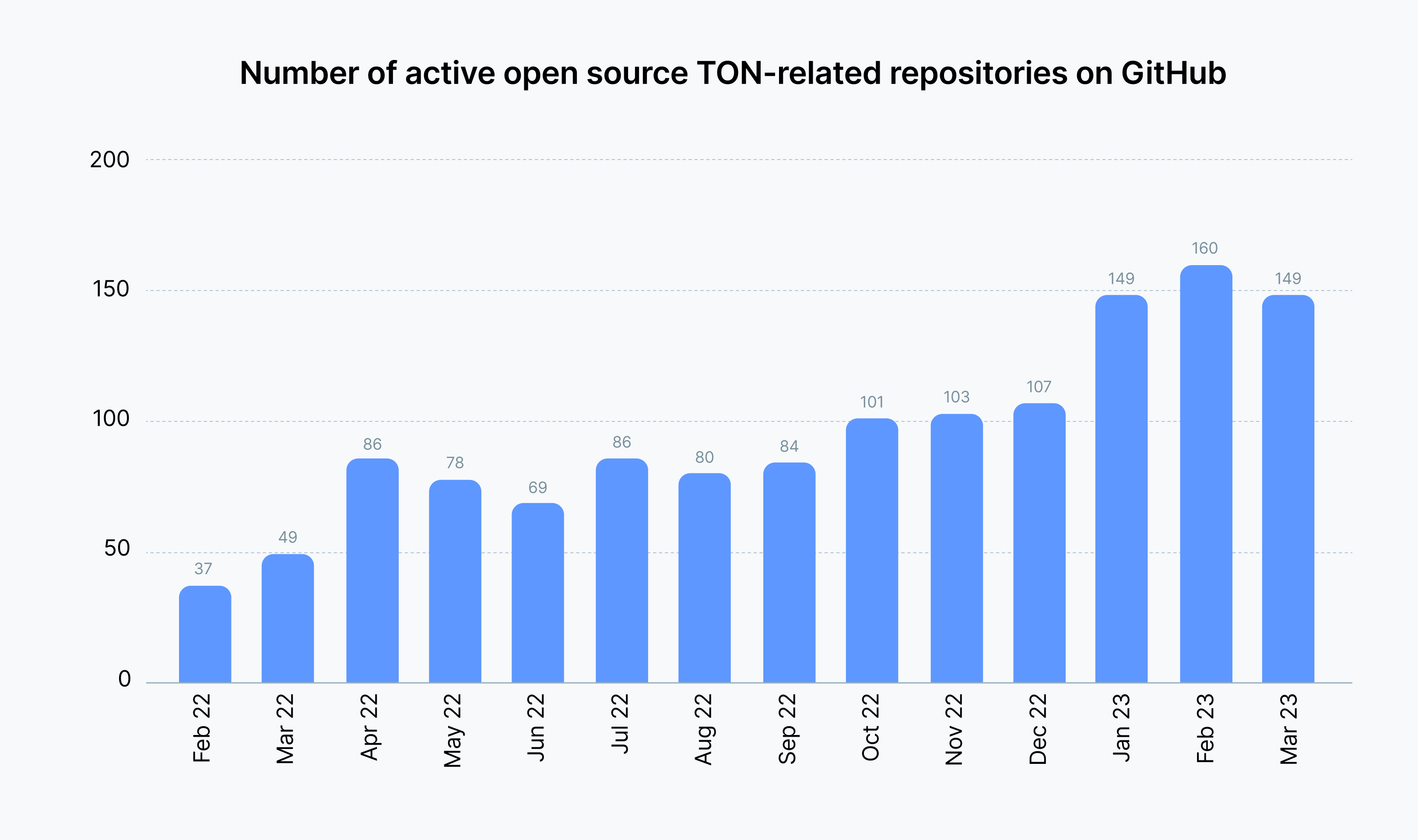 The total number of members participating in TON Developers Chats grew from 7,003 on January 1st to 8,572 by the end of March, marking an increase of 21% in Q1.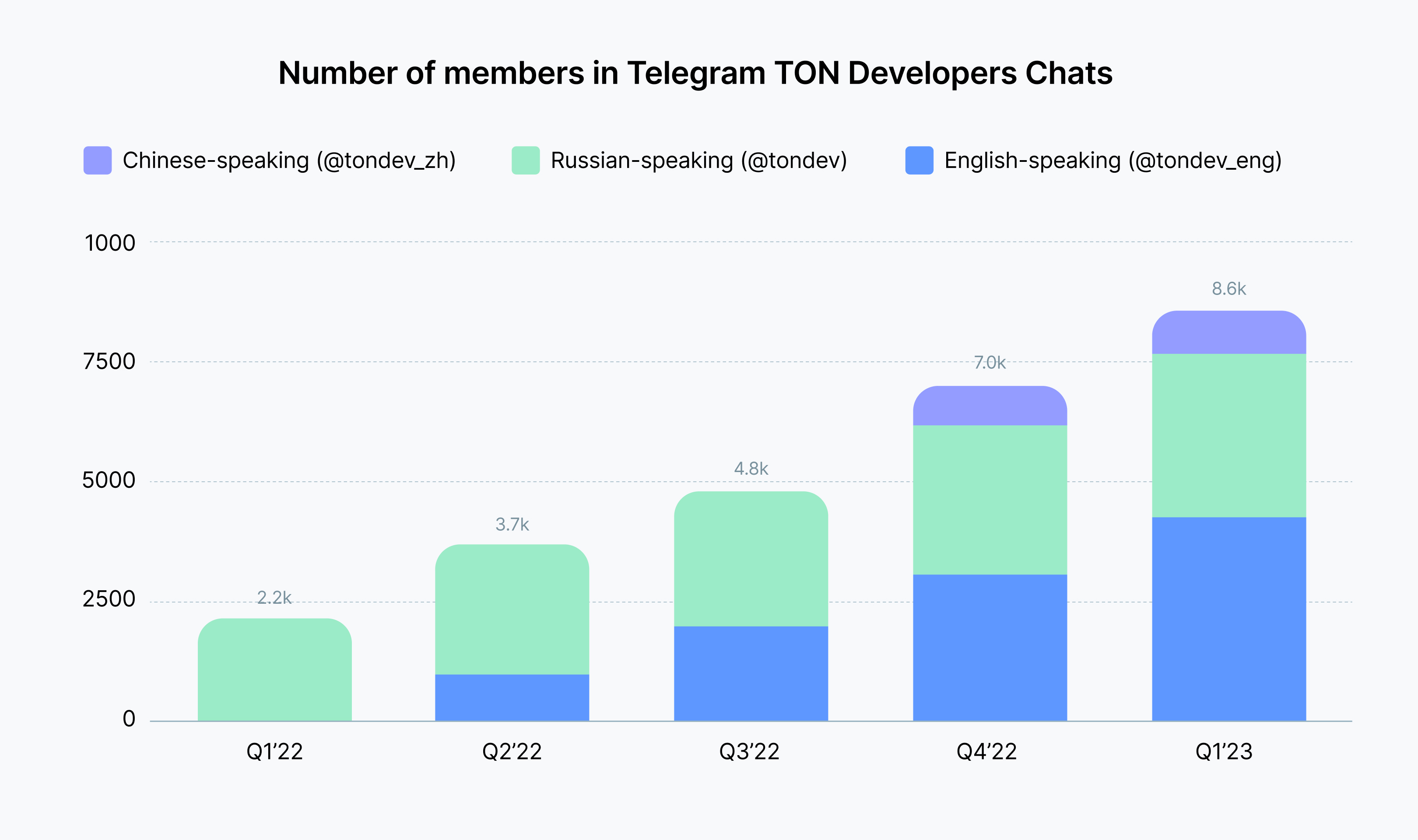 TON Events
Hack-a-TONxDoraHacks
In Q1 TON Foundation joined forces with DoraHacks, the world's largest multi-chain hacker community, to launch their inaugural global hackathon - Hack-a-TONxDoraHacks, which consisted of a total prize pool of $300K in addition to opportunities for participants to obtain a fast track to the $250M TON Ecosystem Fund.
Running from January 31st to March 31st, the two-month-long hackathon saw 233 projects participate, with TON ecosystem partners and TON hub developers hosting 14 offline meetups in numerous regions globally, including:
TONx Studio in Taipei, Taiwan
Boom Labs in Seoul, South Korea
TON Bangkok Hub in Bangkok, Thailand
Tonana in Prague, Czech Republic
SmartDeer in Tokyo, Japan
SmartDeer in Singapore
TonTech in Dubai, UAE
Orbs in Tel Aviv, Israel
TON Play in Saint Petersburg, Russia:
Orbs in London, UK
SmartDeer in Hong Kong
TON India Hub in Hyderabad, India
SmartDeer in Melbourne, Australia
TON Lisbon Hub in Lisbon, Portugal
More information about all Hack-a-TONxDoraHacks events that took place in Q1 can be found in the DoraHacks Hack-a-TONx world tour blog post.
Open Judging Evaluation Process
After the technical judges evaluated the 233 participating projects, the top 40 teams underwent another evaluation period overseen by several commercial judges. After the 40 semi-finalists were evaluated, the top 10 projects advanced to the final evaluation stage to showcase their project's to investors during two days (see day 1 and day 2 here) of intensive live streams that were made publicly available.
Following another round of rigorous scrutiny, our on-chain voting process allowed TON Community members to vote on (using ton.vote) who they believed should win the competition. During the final live stream, the finalists and grand prize winners were announced as follows:
Final Results
The DoraHacks Quadratic Funding Round
The DoraHacks Quadratic Funding round spanned two weeks (running between April 6th and April 20th) and was a pivotal event that highlighted the impact of the TON Community amid various contributions from a wide range of developers building on TON Blockchain.
During the event, participants flocked to the DoraHacks website, eager to allocate a portion of the $35,000 TON token fund to their favorite projects to add to recent TON token contributions received from The Open Network community. It should be noted that all TON token votes allocated to support specific projects were given directly to each individual team, with no TON tokens being allocated to external intermediaries.
In addition to the $35,000 allocated by the TON Foundation, an astounding 2500+ votes, amounting to a total contribution of 50,000 TON, were received as part of the community-based voting process. This incredible show of support was facilitated by our in-house Quadratic Funding and smart contract voting mechanism and ensured a more equitable distribution of the $35,000 fund between all participating projects.
The Open Network Thread Challenge 💫
Between February 7th and February 26th, TON Foundation hosted the TON Thread Challenge, an initiative meant to expand the reach of TON community via Twitter by incentivizing community members to tweet threads that mention TON and the ecosystem's recent developments.
The challenge invited developers, community managers, content creators, and builders across the globe to participate for a chance to win a portion of the $10,000 TON prize pool.
The contest received an overwhelming response, with more than 60 submissions and over 100 threads in total, demonstrating the growing support and passion of the TON Community. To show appreciation for the amazing response, we rewarded all participants in TON tokens and shared their TON-related posts on the main TON Twitter channel.
With the great success of this initiative, it's important that all of you stay up to date on all things TON. In the future we'll launch similar community-based challenges as we continue our mission to spread the word about TON to build a stronger and more vibrant community.
TON Wallet Challenge
Through the creation of the TON Wallet Challenge, the TON Foundation has set the stage for developers to showcase their talent and compete for a chance to win a portion of the $60,000 prize pool.
The challenge is open to all desktop, iOS, and Android developers with the main goal of creating an innovative TON Wallet application that has the potential to replace the current iterations of the TON Wallet.
All the necessary resources, evaluation criteria, and technical requirements required to participate in the TON Wallet Challenge are available on GitHub with a submission deadline date of May 22nd.
TON Hell's Kitchen Initiative
We are thrilled to introduce our new initiative — TON Hell's Kitchen. This program is designed to provide an opportunity for crypto enthusiasts, regardless of their level of expertise, to engage with like-minded individuals and come up with innovative ideas.
Our goal is to bring together a dynamic group of creators, developers, and builders to collaborate and generate exciting possibilities within the TON Web3 breakfast format.
Whether you are an experienced blockchain expert or just starting your journey, we welcome you to join us as we heat up the TON community with this sizzling new initiative.
We look forward to seeing you in Hell's Kitchen — a platform for individuals to expand their network and explore new opportunities within the TON community.
Join us to stir the pot and create something magical.
TON Documentation Materials
Enhanced Documentation: Throughout Q1, the experts at TON have worked extremely hard to revamped TONs technical documentation. The ongoing efforts are focused on making TON Docs more user-friendly via improved navigation, easy-to-understand illustrations, and enhanced UX. We've also worked hard at improving all TON Virtual Machine (TVM) documentation materials by simplifying complex details and providing technical specifications and instructions to make the developer experience more streamlined..
Developer Survey Results: In Q1, we took the initiative to launch ongoing developer surveys to gauge the overall efficiency of application development on TON. Thanks to these efforts, we received 80+ responses from developers building directly on our platform, with an average satisfaction score of 8.09 out of 10. This response indicates that developers are satisfied with the advancement of development on TON and are eager to contribute to the ecosystem's growth as it evolves.
New Onboarding Materials. Based on continuous feedback, we recently introduced a new method for downloading binaries to enhance the development experience for engineers building on TON. We also added new documentation sections that outline data formats and networking protocols to simplify the onboarding process for those building on The Open Network. We also recently created a tutorial that provides a comprehensive overview of wallet development within the greater TON Ecosystem. TON expert Tal Kol also recently released a blog post detailing a simple overview of blockchain for those unfamiliar with the basics of the technology.
TON Developer Tools
Blueprint Enhancement
Throughout Q1 we also worked hard to improve Blueprint, a comprehensive tool for testing, writing, and deploying smart contracts on TON. These enhancements also included the introduction of the Tact programming language, instantly improving the capabilities of smart contract development on the platform.
Sandbox Improvements
Over the last three months, our Sandbox toolkit used for testing TON smart contracts received a major upgrade. The latest version includes the introduction of several newly released features, including external message handling, verbosity setting enhancements, transaction time override improvements, and more. These improvements significantly improve the ability for developers to test code and ensure it's working as intended prior to deployment. The performance of our Sandbox toolkit was also dramatically enhanced in Q1, leading to faster testing and development times for all involved.
Founding of the Tact Software Foundation
We're happy to share news about the announcement of the establishment of the Tact Software Foundation (TSF). The Tact Software Foundation is a dedicated group of developers whose sole mission is to build and improve software development tooling systems for the TON Ecosystem. The TSF's goal is to streamline the creation of TON projects within the TON Ecosystem by inspiring and encouraging developers to continue to upgrade their skills to become more proficient building on the TON Network.
As a foundational component to realizing this goal, the TSF recently released the newest version of the Tact programming language, Tact 1.0.0. The Tact language is designed specifically to simplify the creation and deployment of smart contracts on the TON Blockchain and will surely make a significant impact on The Open Network community moving forward.
In addition to the release of Tact 1.0.0, the Tact Software Foundation recently introduced a range of new features and tools that will streamline Tact development on TON. These include the Tact Emulator (used to emulate transactions), the Tact Deployer (used to deploy smart contracts), various TON Jest tools (a testing toolkit for Tact), and a code verification framework for smart contracts. These tooling frameworks are designed to help developers optimize their code, work with TON-related objects more efficiently, and test and deploy their iterations faster. The TSF also recently released the TON Config Contract library used to simplify the parsing and loading of TON network configurations.
TonTechers Forum
In addition to the numerous technical updates detailed above, the TonTech team, who created Blueprint and Sandbox, have also recently launched the TonTechers Telegram forum, providing a platform for developers to connect with the community while building on TON Blockchain. The forum provides support for developers using TonTech tooling and development systems and further strengthens the TON developer community by fostering increased collaboration and knowledge exchange.
TON Connect Adoption and Growth
For those unfamiliar, the TON Connect protocol is a developer-friendly environment that allows for the seamless creation of applications on The Open Network Blockchain. TON Connect 2.0 was launched during the first quarter of 2023 to replace the initial version of the protocol, TON Connect 1.0. As expected, the adoption of TON Connect 2.0 has continued to increase in recent months, with 35 large-scale projects implementing the service of late. This has allowed TON Connect 2.0 to obtain a user base of more than 1 million (and growing).
To add to its increasing utility, TON Connect 2.0 is now fully integrated with TON's four largest wallet service providers (Tonkeeper, Tonhub, OpenMask, MyTonWallet), allowing users and developers to make use of their favorite TON ecosystem wallets with a few simple clicks. As of this writing, more than 200,000 monthly users make use of the TON Connect protocol, indicating its importance as a pivotal component of the TON Ecosystem.
Since its initial development, TON Connect has helped the Tonkeeper Wallet carry out more than 1,000,000 token transfers to external dApps, proving its continued adoption and functionality. In addition to its connectivity with TON Blockchain, TON Connect is also fully integrated with Telegram-based wallets (via Telegram-enabled bots) and other middleware, further showcasing its versatility, usability, and increasing adoption.
TON Connect and TON Footsteps Wallet Grant Recipients
Thanks to the TON Footsteps grant initiative, various TON Ecosystem wallets recently completed full integrations with the TON Connect protocol, resulting in dramatically improved compatibility and functionality of our partner wallets.
As of April 2023, the list of wallets fully integrated with TON Connect 2.0 includes:
TON Awards 2022
The Open Network Ecosystem experienced significant growth in 2022 and has continued in 2023 via the development of various business-enterprise and non-enterprise projects building on TON. Sadly, some of the most innovative and forward-thinking project designs don't receive the recognition they deserve. To address this issue, the TON Awards were created to showcase some of the most innovative projects building within TON Ecosystem.
While TON ecosystem's growth outpaced the endorsement of new projects, initiatives such as TON Footsteps, TON Grants, and support for various hackathons and community projects provide funding that is more predictable and transparent.
TON Awards aims to honor blockchain and crypto projects that laid the foundation for TON Ecosystem in its early days, especially those that continued to display designs based on decentralization, technical strength, and creative innovation.
After the completion of TON Awards 2022, a wide range of incentivized rewards were distributed to various builders and community members for their expertise and hard work.
In total, independent developers who developed and launched projects on TON Blockchain in 2022 received prizes worth a combined 301,920 Toncoin (TON) (or $675,000 at the time of writing) distributed among 40 teams. This made TON Awards 2022 the biggest in the project's history.
The complete list of award recipients can be found in the TON Awards repository.
TON Foundation and the community would like to thank everyone who participated in TON Awards 2022. The passion and dedication of the TON developer community is highly appreciated.
Those truly dedicated to the growth and advancement of TON through the development of ecosystem apps and other technologies will be vital to realizing mass adoption of the TON platform in the long term.
TON Grants Program
The TON Grants Program, an ecosystem fund driving the development of TON Blockchain, recently announced its latest set of successful grant applicants. These include:
BitOk - a platform that helps traders, investors, and crypto businesses navigate tax issues and AML via a one-stop-shop solution. Join the BitOk community: https://twitter.com/Bitok_org.
OpenMask - a browser extension wallet similar to MetaMask that supports TON Ledger hardware wallet integration. Join the OpenMask community: https://t.me/openproduct.
FairJournal - a decentralized and censorship restaurant blogging platform built for TON Ecosystem users that allows content creators to receive support via NFT sales and donations.
Symbiosis - a user-friendly cross-chain AMM DEX and interchain communication protocol designed to be fully decentralized, interoperable, and non-custodial, with limitless cross-chain liquidity. Join the Symbiosis community: https://t.me/symbiosis_announcements.
TonCap - a team of developers dedicated to enhancing jetton analytics and the development of various locking contracts that provide a transparent and trustworthy way for locked jettons to be secured. Join the TonCap community: https://t.me/tonmarketca.
We'd like to congratulate the above projects for their ingenuity, hard work, and continued contributions to the TON platform. As always, we'll keep you posted on the development and progress of these amazing projects and their respective teams moving forward. For those that wish to participate in the TON Grant program, sadly, the application process is now closed. In Q2 we'll welcome a new series of proposals that is open to anyone who wishes to participate.
TON Footsteps
TON Footsteps is a program recently launched by the TON Foundation to encourage community contributions towards the development of the TON platform. This is achieved through in-ecosystem rewards and various other benefits. At present, 69 TON Footsteps initiatives are open to potential contributors.
Past and current TON Footsteps contributions include the development of numerous video tutorials, English article translations, suggestions for TON documentation amendments, and contributions to a wide range of developer initiatives such as protocol and middleware development, TON libraries, dApp tutorials, SDKs, flash grants, and more. The TON Footsteps project follows a series of ideation and review stages decided upon through open community dialogue.
Completed TON Footsteps Initiatives
The following Footsteps initiatives were completed in Q1 of 2023:
SDK Integrations
January saw the highest number of successful SDK integrations in Q1. These included several interesting SDK Footsteps undertakings, all of which are detailed in our January Developer Report in addition to the following newly developed SDKs:
By participating in the TON Footsteps program, developers are given the opportunity to dive into the world of blockchain and crypto while simultaneously expanding their skill and knowledge bases.
Join us today and let's continue to build the TON Ecosystem!
TON Developer Community of The Year Nomination
TON Ecosystem recently earned a nomination for the 2023 Developer Community of the Year Award, courtesy of AIBC, a European events and media production enterprise focused on the adoption of blockchain and crypto. This nomination stands as a testament to the hard work, dedication, and resiliency of the TON developer community so this year.