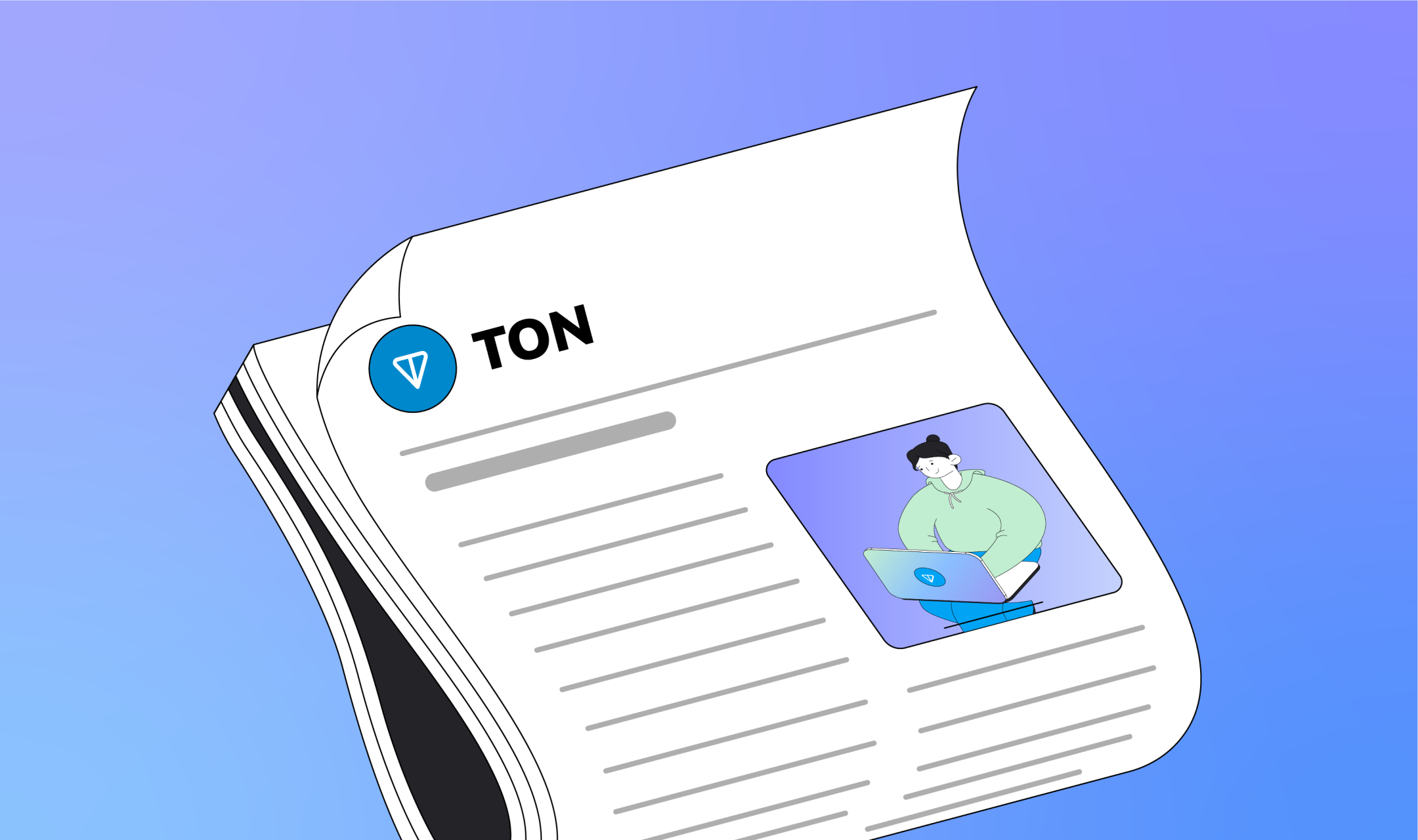 Over the past three months, the total number of accounts and transactions on The Open Network (TON) increased to 2.88 million and 173 million, respectively. TON has become the 14th largest cryptocurrency by total market capitalization, according to CoinMarketCap. Similar to the previous quarter, TON's technology, ecosystem, and the network's economy improved.
Tokenomics
Tokenomics Deflation Mechanism
The TON 2023.06 update introduced the new burn functionality. It was implemented by the community and validators, who voted to burn 50% of the network fees, including storage and transaction fees. This forward-thinking solution means that, although the current burned amounts are insignificant, as the network and transaction volume grows, there could be a noticeable reduction in the circulating Toncoin supply. Decreasing the supply typically stimulates demand. It is also worth mentioning the creation of the "Black Hole" mechanism, which destroys all Toncoin sent to it. This can be utilized for new deflationary mechanics in the future.
Lockup and Vesting Tools
"The Locker", a smart contract allowing users to lock up their coins for an extended period, has been created and tested. It is possible to assign a reward in Toncoin for the locking action. This smart contract can have various applications. Additionally, a vesting wallet toolkit has been developed, which will be useful for working teams.
Users
Decentralized Encrypted Messaging
With the new update, your TON wallet has also become an encrypted messenger. Even if the world experiences an apocalypse and regular messenger servers stop working, you will still be able to send important messages through the decentralized TON Blockchain. These messages will be guaranteed to be delivered and securely encrypted.
TON DeFi Growth
Thanks to the Liquidity Mining Rewards Campaign, the Total Value Locked (TVL) in the network has grown by 2200%, and over $20 million has passed through the token bridge launched last quarter. Undoubtedly, we will continue to stimulate the growth of the TON DeFi segment moving forward. Tonkeeper, the most popular TON wallet, has integrated staking and a decentralized cryptocurrency exchange into its interface. The decentralized exchanges on TON are also making progress – DeDust has received a significant 2.0 update, a new exchange called FLEX has been launched, and STON.fi has introduced a new Rust SDK, FunC library, and launched the STON token.
DAO & Liquidity Staking Contracts
Liquidity staking is the newest solution that allows you to earn staking rewards and use your assets in DeFi at the same time. Liquidity staking is also more convenient and accessible for users compared to previous staking options.
New smart contracts for liquidity staking have been developed and you can participate in testing them through the demo application. After the test phase, the source code of the smart contracts will be published under an open-source license. You can find more details in the documentation. The Tonstakers team has already announced the creation of a custom service based on these contracts.
An alternative is available – in partnership with DWF Labs, bemo successfully launched its own liquid staking protocol.
Address Reform
Several changes and improvements have been made to the format of TON addresses. These modifications aim to safeguard inexperienced users from losing their assets in situations where they mistakenly send funds to the wrong address. In most cases, users can retrieve their funds even after such errors occur. Currently, there is ongoing public discussion among TON developers regarding these improvements.
TON NFT Development
TON NFT has gained popularity in the world of art. The Playmuse marketplace has created a label through which NFT artists from TON Ecosystem can showcase their artwork on Spotify, Apple Music, YouTube Music, and Amazon Music, while receiving royalties in Toncoin cryptocurrency. On one of the main billboards in Times Square, New York, you could see a promotional video for Ellen Sheidlin's new NFT project, and popular American artist Sarah McDaniel has released her NFT project on TON and produced a mini-film about it. The South Korean blockchain laboratory Finger Labs will be collaborating with TON as part of the Favor Alliance NFT initiative, which aims to connect NFT projects with real-world applications. And the Oveit team plans to revolutionize ticketing with TON NFT.
Other Highlights
Developers
TVM Update
The most extensive update to TVM in its history has been released, incorporating advanced cryptography, arbitrary-precision arithmetic, and new instructions. This update makes TVM one of the most versatile virtual machines among all blockchains. We held a competition to find the best uses of the new features and received remarkable submissions, including the implementation of ZeroKnowledge and SNARK protocols.
Telegram Web Applications
With the release of the new WebApp API from Telegram, we see tremendous potential in combining TON Blockchain with the Telegram Web Applications platform. For working with Toncoin, your application can seamlessly utilize other bots, such as @wallet. Currently, the Telegram Web Applications Contest, with a prize pool of $60,000, is taking place.
Developer Libraries
Existing development toolset have been actualized. Currently, we recommend developers to use the ton.js library, the Blueprint environment, and the IntelliJ IDEA plugin for the development, testing, and deployment of smart contracts on TON.
For payment services and exchanges, tonweb is the ideal choice.
Elector and Config Update
Originally, our plan was to update the key system smart contracts, specifically Elector and Config, within this quarter. However, we discovered that modifying these contracts will also be necessary for third-quarter tasks, including the launch of extra-currencies. Since altering the system contracts is a significant and resource-intensive undertaking, we have made the decision to postpone the update until the third quarter and address all the tasks simultaneously.
New Elector and Config Contract Code
Core Updates
In this quarter, three core updates were made: 2023.04, 2023.05, and 2023.06, focusing on optimization, security, and protection against DDoS attacks. The FunC language received two updates: 0.4.3 and 0.4.4.
Intermediate Results of Rainbow Cross-Chain Development for The Open Network
At the BUIDL Vietnam 2023 event, Roman Nguyen presented our significant results in the development of a unique cross-chain solution that works entirely without intermediaries and private keys, and checks all data on smart contracts.
New GameFi Tools
TON Play released the Unity SDK and payment management for games, and also hosted an offline game development meetup.
Community
Five TON contests were conducted with a total prize pool over $200,000. These contests included the Telegram Web App Contest, TON Wallet Contest, TVM Contest, Wiki Contest, and Locker & TVM Bug Bounty.
A new large-scale Hack-a-TON program was announced, to be conducted in collaboration with DWF Labs and AWS Startups, with a prize pool of 150,000 Toncoin.
Grant recipients for the second quarter have been approved.
The TON Accelerator Program will allocate up to $25 million to promising projects based on TON in 2023.
Conclusion
TON is actively growing and reaching new heights. In the next quarter, we plan to introduce new cross-chain solutions, continue optimizing tokenomics, stimulate growth in the DeFi segment, and conduct public stress testing of the blockchain.