TON Developer Report: Q3 2023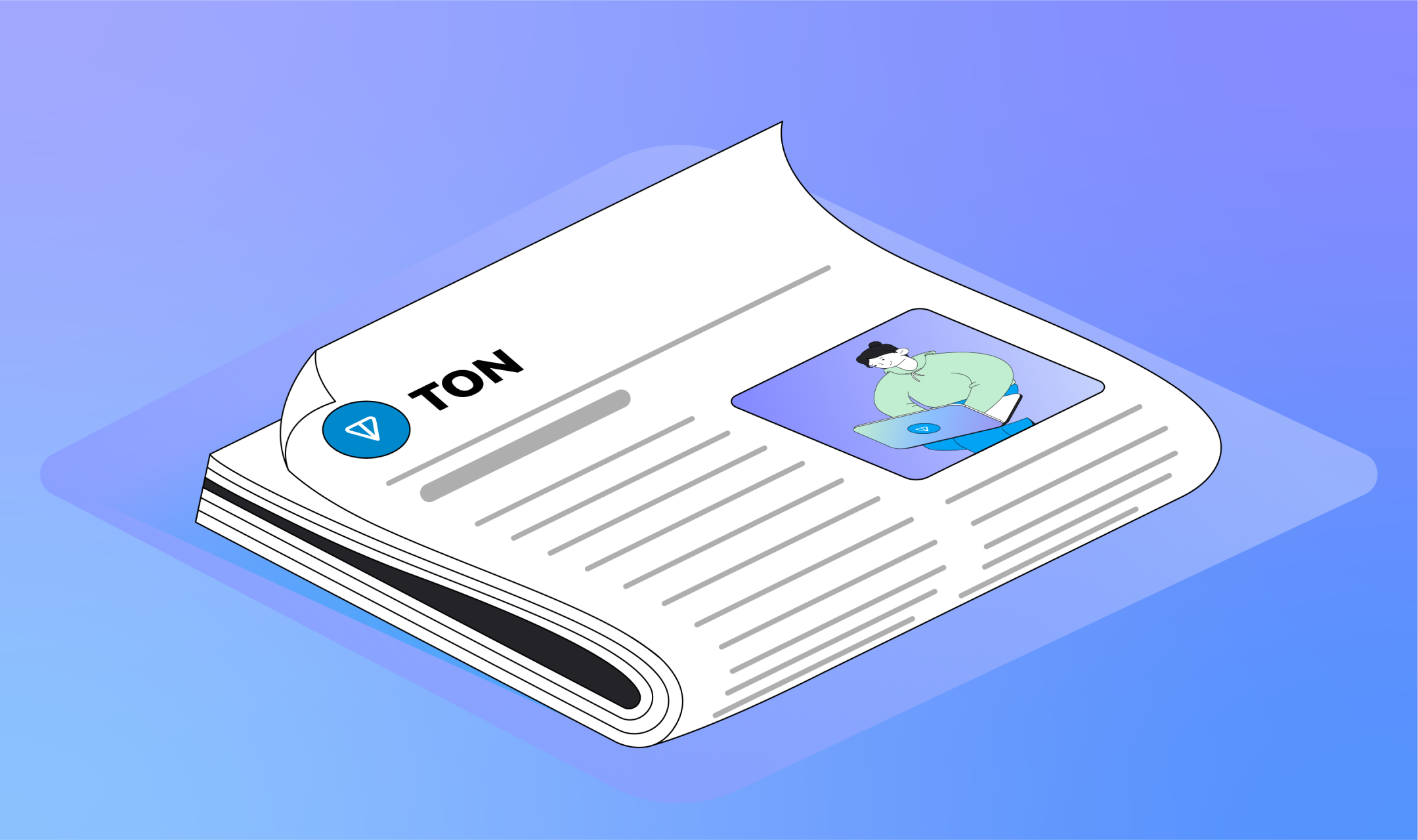 With another quarter behind us, it's time to review the last three months of the development within the TON Ecosystem. It was a thrilling quarter, filled with new product launches such as the TON Space, multiple technological improvements, and even more growth than ever before.
We invite you to explore our Q3 Developer Report as we enter the last quarter of 2023. Join us in reflecting on the substantial progress we've made, and let's take a look at what the future holds.
Continue reading to check out the latest updates from each initiative and team participating in furthering the development of TON.
Key Takeaways
TON Developers Community on Telegram grew from 9134 members on 1 July to 10747 by the end of September, a 17.66% increase in Q3.
137 teams participated in Hack-a-TON x DWF x AWS, a global hackathon organized by TON Foundation in collaboration with DWF Labs and Amazon Web Services with over a $415,000 prize pool.
TON Society's latest event, the TON Tact Challenge, is currently live with a $30,000 prize pool. This is your opportunity to learn a new cool language to build on the TON and compete for prize money simultaneously. Check it out.
TON Grants Program received over 100 proposals, with 10 projects approved and over 40 participating builders.
TON Bounties Program, previously known as TON Footsteps, distributed $53k in rewards to 25 completed, 40 approved, and 32 processed bounty tasks.
The TonTech team became a part of the TON Foundation and started the development of the Ledger App for TON, launched a beta version of GameFi SDK and the first demo game running on SDK, and proposed a new compressed NFT standard for TON. Give it a try, and share your feedback with us!
A community-driven third-party team released a beta version of TON Blockchain Course with over 40 lessons, upgraded the Developers Portal, and produced new documents for TON Connect.
The Nujan Web IDE was also released, and the TON Documentation Portal was revamped to support Web IDE for smart contracts examples.
tApps Center, a new catalog of Telegram Mini Apps, Games, and Bots, was launched on August 17, with over 100 listed apps.
The TON Foundation attended TOKEN2049, announcing multiple major news, most significantly the initiative between Telegram and the TON Community, the new self-custodial TON Space wallet, and more.
TON Society hosted 20 meetups, breakfasts, boot camps, and workshops in 15 countries with over 1,400 attendees in total.
Metrics
First, let's take a look at some basic metrics that quantify our growth in numbers.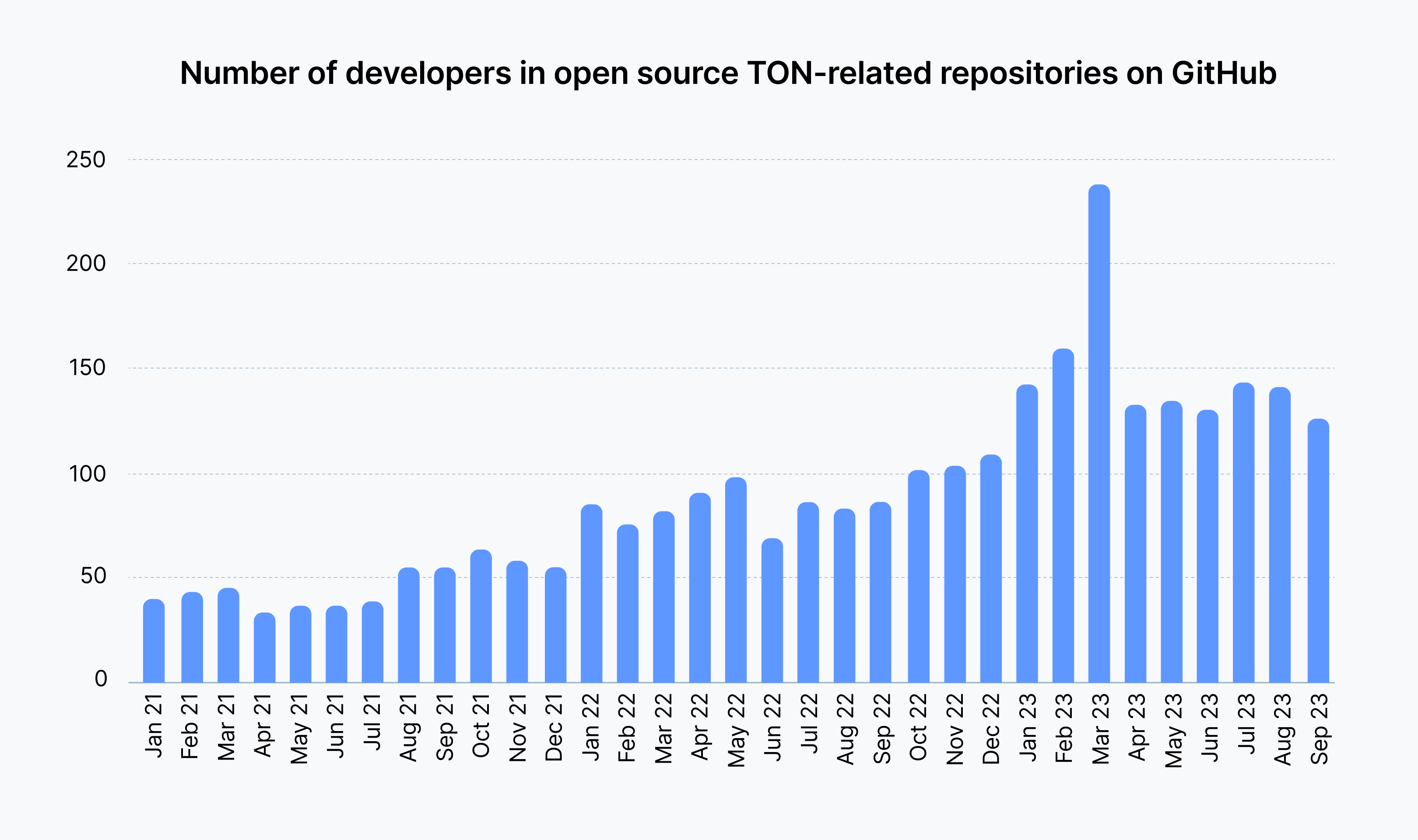 Monthly active developers in TON-related repositories on GitHub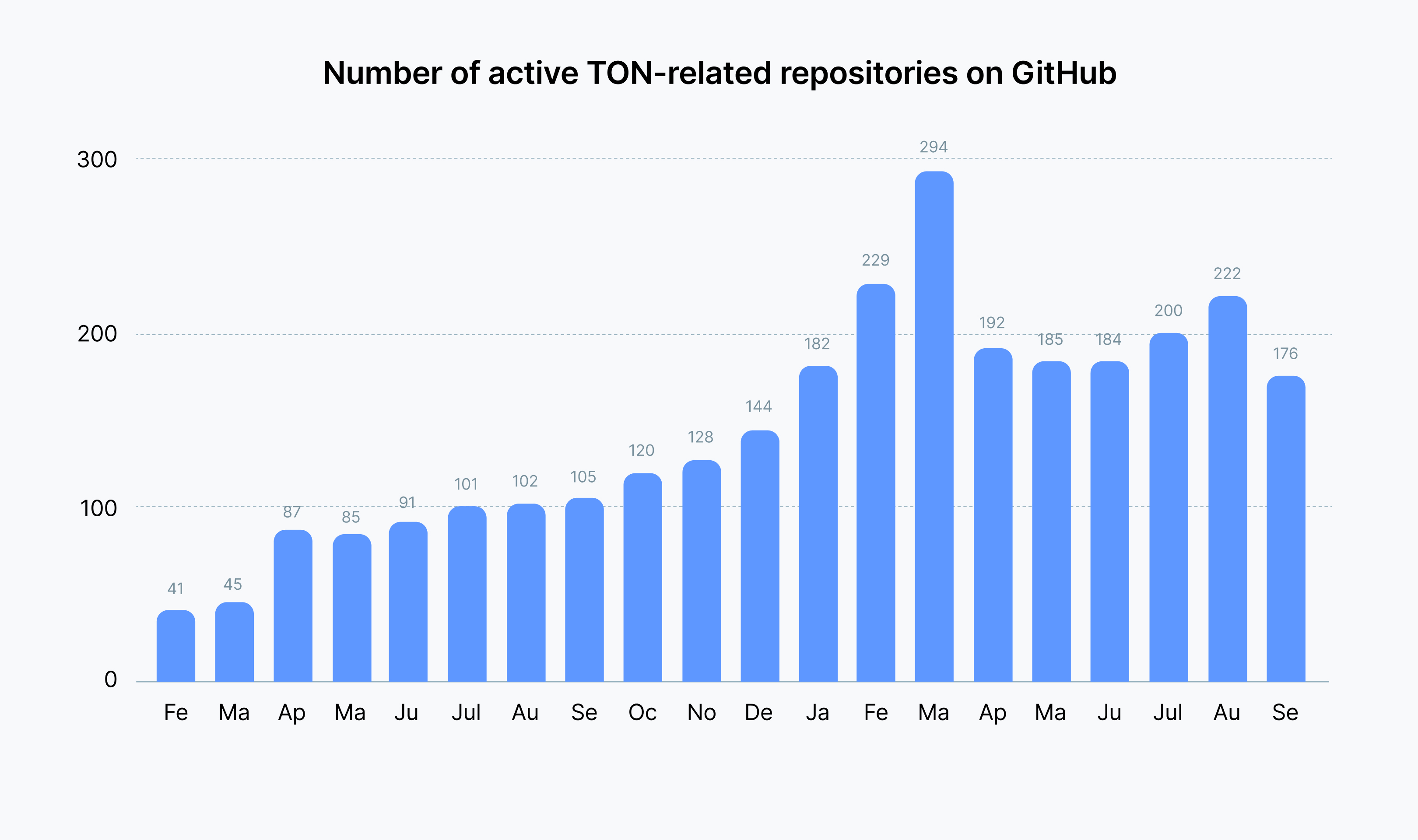 Number of active TON-related repositories on GitHub.
Although the number of active developers and TON-related repos on GitHub decreased from its peak, we're observing a stable activity level. From July 1 to September 31, the number of members in TON Developers Chats grew by 17.66% compared to the previous quarter.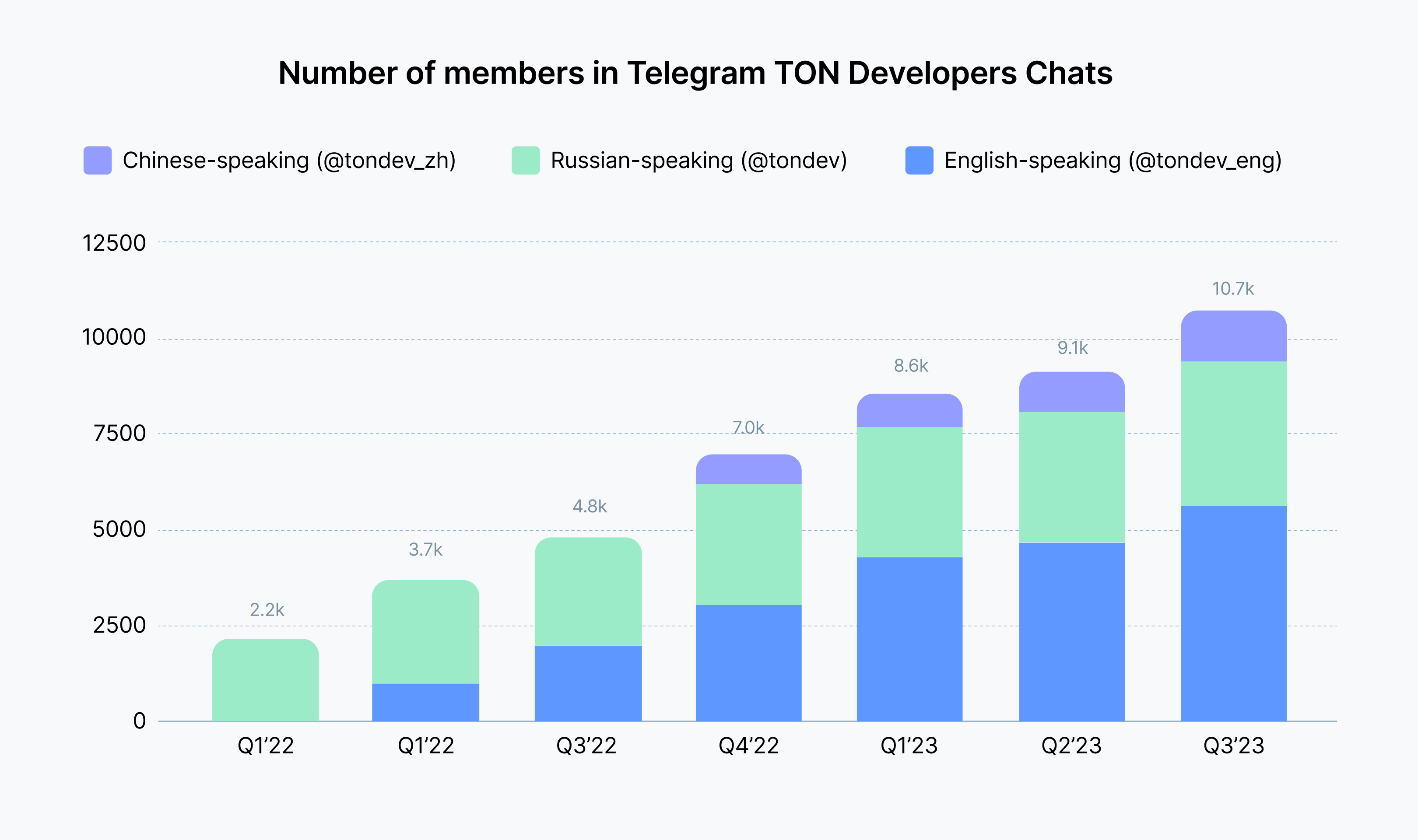 Number of members in TON Developer Chats by language.
Events
Over the past three months, we launched three major contests and attended the TOKEN2049 conference in Singapore.
TON Society
TON Society, a community committed to uniting and supporting users interested in contributing to The Open Network Ecosystem, has introduced a revamped philosophy and an improved platform. The mission of this updated community is to foster the development of regional TON communities worldwide, facilitating offline meetings for enthusiasts and attracting local investors to participate in TON projects.
To achieve this, TON Society has established specific hubs for different regions:
Builders, developers, writers, ambassadors, organizers, community managers, and others are all welcome to join the TON Society and its regional hubs. Regardless of your role or expertise, the key is to want to contribute to TON's growth.
With the help of the wider community, TON Society aims to be the driving force that propels The Open Network and the entire blockchain industry towards mass adoption. These regional groups are united by users with a shared passion for TON Ecosystem. Within these communities, you can easily connect with like-minded people, explore potential partnerships, collaborate with specialists, and even find investors.
You can read more about TON Society's new philosophy here.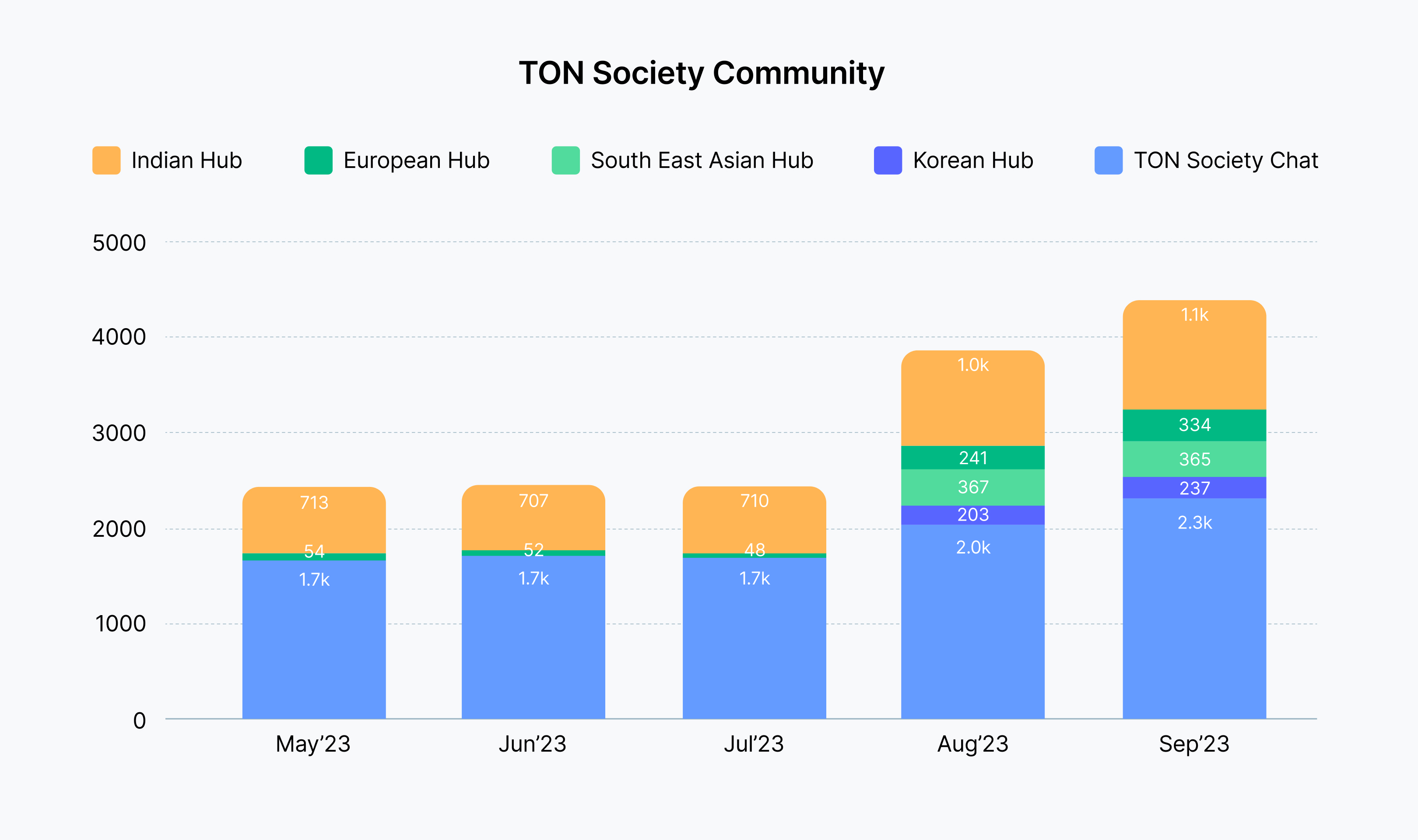 Our four regional Hubs grew by roughly 77% compared to the previous quarter.
TON Society South-Eastern Asia Hub
With another quarter behind us, it's time to review the activities of the TON Society in the SEA region over the past three months. Overall, we have covered all the main countries in the SEA region and hosted 6 amazing events in Vietnam, Singapore, Philippines, Thailand, and Indonesia. The attendance at these events ranged from 80 to 250 people, totaling roughly 800 attendees. We also hosted 4 educational workshops.
TON Roadshow is a series of events, workshops, and in-person training conducted with a key focus on building awareness and onboarding developers, early-stage projects, and local partners in the SEA region.
We want to thank our amazing partners who helped us organize the events, namely APAC DAO, Moledao, Beosin, DACM, College DAO, Talent web3, SMU Blockchain Club, Cryptomind Bitcoinaddict, Contribution DAO, Magnus Capital, DevCon, Att3nd, Web3PH, Probit Global, Coinfest Asia, and S21.
TON Society Europe Hub
The third quarter was a period of incredible growth and exploration for TON Society Europe. Our team hosted a European roadshow that visited cities such as Lisbon, Paris, Cologne, Warsaw, Prague, and Amsterdam, attracting around 450 enthusiasts and developers to our meetups.
One standout event was the TON Developers Weekend in Prague, a city renowned for its talented developers. Here, we held various workshops, including one on Tact, TON gaming, and Telegram Mini Apps. In just a day, a jury that included Mark Ohman from the TON Foundation evaluated three projects integrating TON and TMA, with winners sharing a $5,000 prize.
In Warsaw, we tapped into a vibrant community that is both knowledgeable and eager to learn about the capabilities of TON Blockchain and Web3 SuperApp. This city shows tremendous promise, filled with young and passionate enthusiasts. Lisbon's meetup spotlighted the integration of legal startup Delegate into the Telegram messenger, showcasing how mass adoption is achievable with over 850 active users on the SuperApp.
We also made our presence felt at GamesCom, Europe's largest gaming event. Our Gaming Lead, Inal Kardan, discussed the transformative potential of blockchain technology for the gaming industry.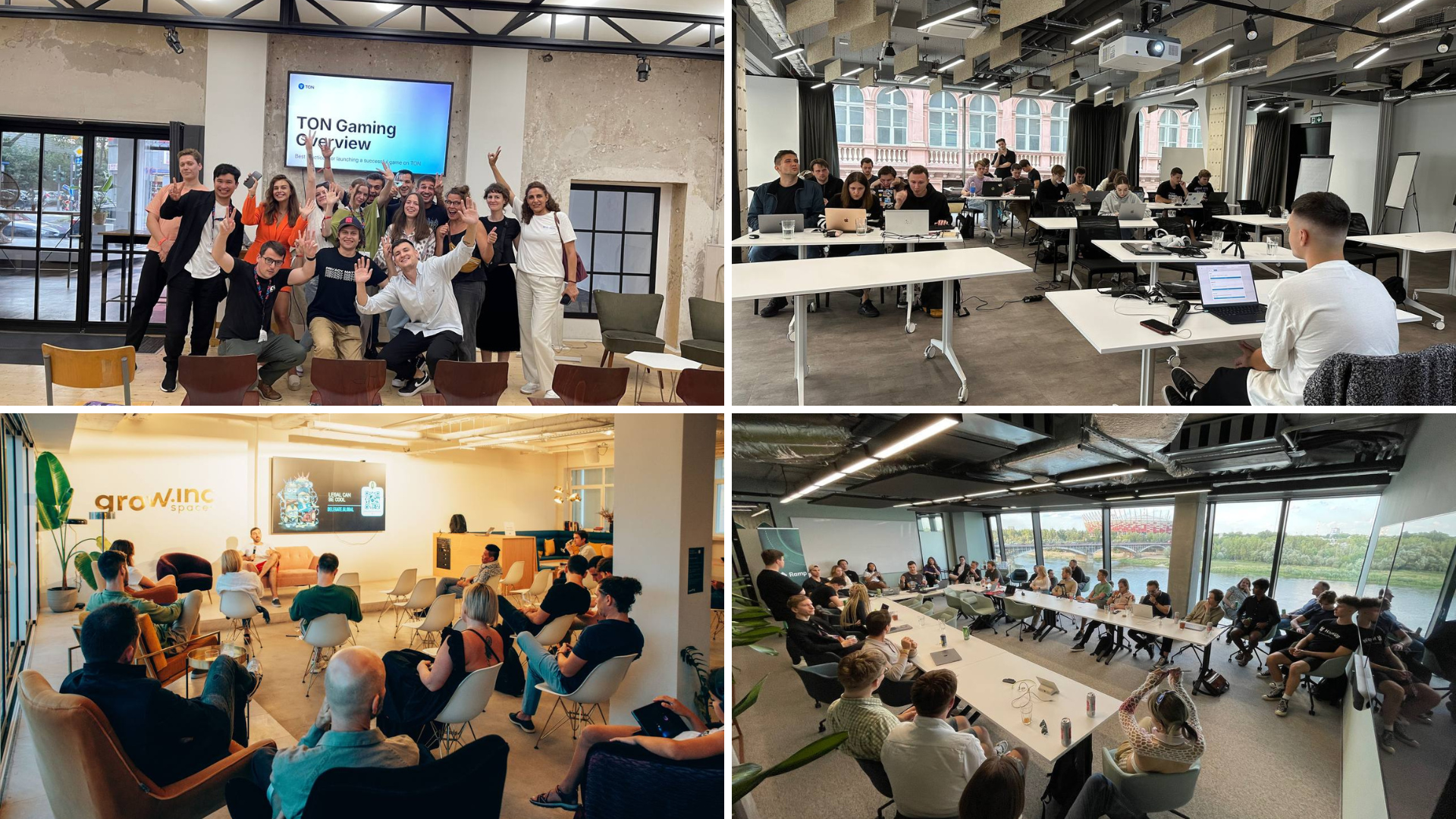 TON Society meetups at Cologne, Prague, Lisbon, and Warsaw.
For those who couldn't attend in person, we teamed up with InnMind to host an online workshop titled "TON Wallets for Web3: Unlock over 800 million Telegram users for your crypto startup." The speaker, Eugene Anisei, outlined the advantages of three TON-based wallets, and you can rewatch the session here.
TON Society India Hub
Our hub has been buzzing in India with various activities designed to engage and educate the community. Firstly, we want to announce that Ankit Jaiswal joined as the DevRel Lead for India in July. We started with a workshop at Bennett University, where we launched our Campus Ambassador Challenge, drawing an impressive turnout of more than 150 attendees. This was followed by a meetup in Mumbai that also garnered significant interest, attracting over 100 participants. Furthermore, we successfully closed a title sponsorship deal for an upcoming hackathon at Delhi University, which anticipates having 3,500 online and 700 offline participants. We hosted 4 city meetups in Delhi, Bangalore, Chennai, and Mumbai, each with roughly 100 attendees.
Online engagement has been equally dynamic. We hosted a Twitter Space in collaboration with 'Bing Ventures,' which has a following of 23,000 subscribers. Additionally, we featured in a YouTube podcast, Cryptowaley, reaching new audiences.
In the project development arena, we've made significant strides as well. Wagmi11, an innovative decentralized prediction and sports fantasy platform from India, recently went live on our mainnet. A major onramp service provider Onramp.money integrated TON, allowing users to buy crypto using UPI, an important mode for digital transactions in India.
Last but not least, our community engagement has been extremely rewarding. Our TON Society India Telegram group recently crossed the 1,000-member mark, currently standing at 1,144 members.
TON Society Korea Hub
In the third quarter, we organized three developer-focused events, fostering engagement and growth within the TON community.
TON Korea Dev Meetup was a community-driven meetup where local developers generously shared their expertise in FunC and Tact through live coding sessions. Following the meetup, two attendees became TON Ambassadors.
We successfully hosted a three-day Tact Bootcamp in Seoul featuring a $10,000 prize pool. On the final day, we hosted TON Seoul Night, which included a Demo Day and a Networking event during Korea Blockchain Week.
Collectively, these events attracted a total of 300 attendees and led to the addition of three Ambassadors to our team. Furthermore, our local partnerships expanded to a total of 16, Blockchain at Yonsei, Blockchain Valley, GAIROS, EWHA-CHAIN, HIBL, Hunt Town, SOJU DAO, Coworkers, Fingerlabs, Coinness, THEKIE, OZYS, TAV, TAP, Blockwave Labs, and ION Finance.
TON Breakfasts
Just like in the previous quarter, in Q3 2023, our community hosted multiple TON Breakfasts, events organized by the community for the community.
Overall, the community hosted 6 amazing breakfast events in Addis Ababa, Minsk, and Tel Aviv, each having over 50 attendees. Do you want to organize a TON Breakfast in your city? Join this channel, and we will help you out.
Key Partnerships & Releases
Among the biggest news of the last quarter, we can't forget several major partnerships we formed with tech giants such as Tencent and Chainbase.
tApps Center Release
The tApps Center aims to offer a catalog showcasing the Telegram Bots and Mini Apps (TMAs) ecosystem. The goal is to keep user experience at the forefront, and the tApps Center does just that by providing you with an interface familiar with established app stores that you already use daily.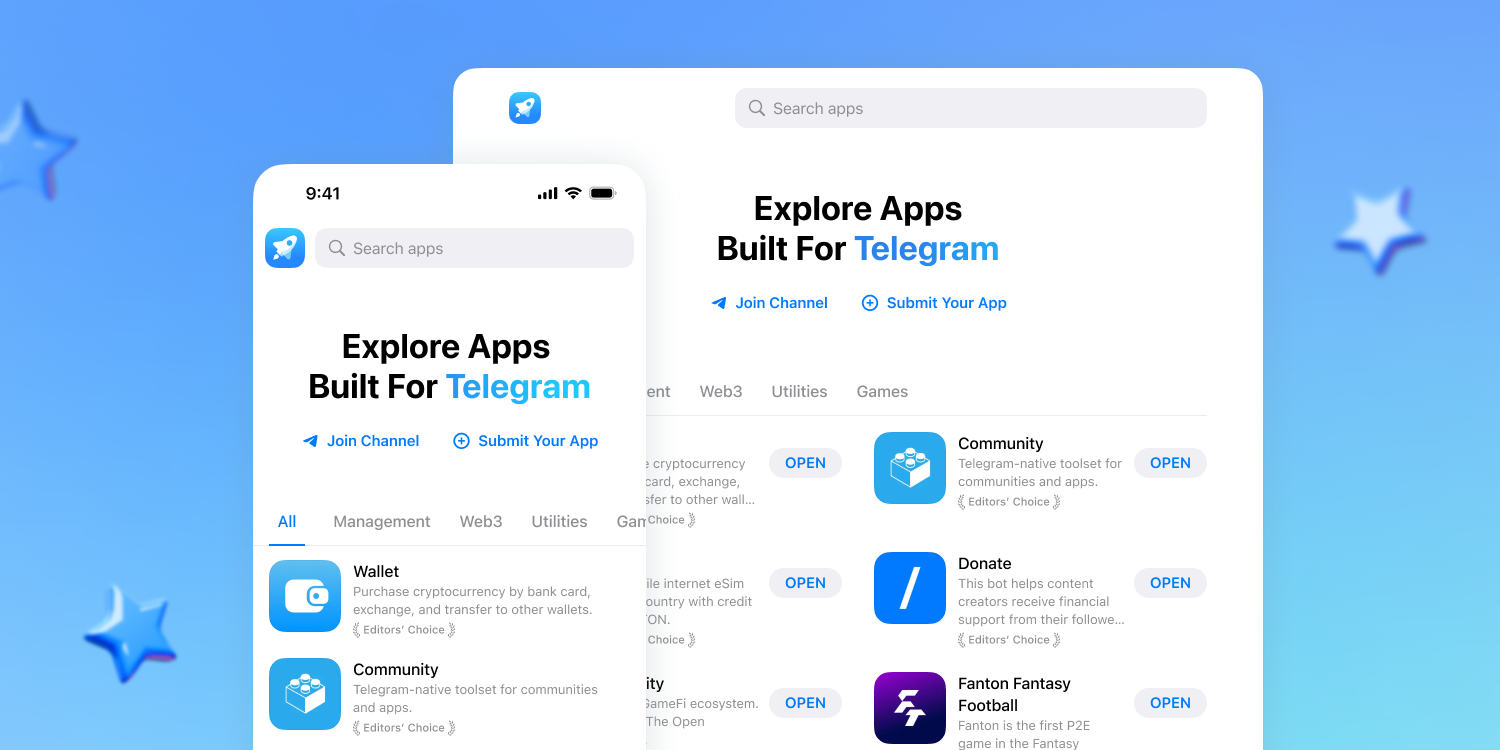 The tApps Center was launched on August 17 and now hosts over 100 different tApps, from productivity tools to channel management and even games. To learn more about tApps Center, read our announcement article.
NFTScan Integration
On September 12, NFTScan officially announced the launch of the TON NFTScan, a professional NFT explorer providing concise and efficient NFT data search and query service for users in the TON Ecosystem.

NFTScan is the leading global multi-chain NFT data infrastructure service provider, and the TON network is the 18th blockchain supported by NFTScan.
Tencent Cloud
Tencent Cloud has already successfully supported TON validators and plans to expand its services further to help meet TON's high compute intensity and network bandwidth needs.
Tencent Cloud and TON Foundation are devoted to supporting web applications and bots built within Telegram. For example, Telegram games built on TON can benefit from Tencent Cloud's enriched gaming solution and reference cases. For all projects built on TON, Tencent Cloud will offer, subject to approval, a dedicated amount of cloud credits and product discounts made available through the Tencent Cloud Startup Program. Find out more here.
Chainbase
Leveraging their extensive experience in data indexing and querying, Chainbase will offer the first data indexing product on TON. This will allow for the free utilization, querying, and analysis of all TON data per developers' unique use cases. Chainbase's enterprise node deployment service will deliver low-latency and highly reliable blockchain connectivity for Web3 projects and developers on TON
Chainbase is an all-in-one data infrastructure for Web3 that allows you to index, transform, and use on-chain data at scale through diverse tools we provide, such as pre-defined APIs, SQL studio, data syncing, subgraph hosting, and more. With an OPEN, FAST, RELIABLE platform and a suite of seamless developer tools, Chainbase's ultimate goal is to increase data freedom in the crypto and unleash better data utilization and full data ownership. Over 5,000 developers actively utilize our platform as their data backend and integrate our service into their main workflow. Additionally, we are working with ~10 top-tier public chains as first-tier validators and managing over US $500Mn tokens as a validator node provider. Find out more at: chainbase.com
We want to sincerely thank Awesome Doge, a GitHub contributor, for helping us establish this important partnership.
Developer Tools
We recognize that developer tools are required to boost TON's adoption and development. That's why the TON Foundation also supports independent contributors and teams who continuously work on providing more tools.
TON Connect Update
Last month, we updated the TON Connect user interface to a more intuitive design and enhanced its usability. Additionally, we integrated the new non-custodial TON Space wallet support from the TON Wallet project.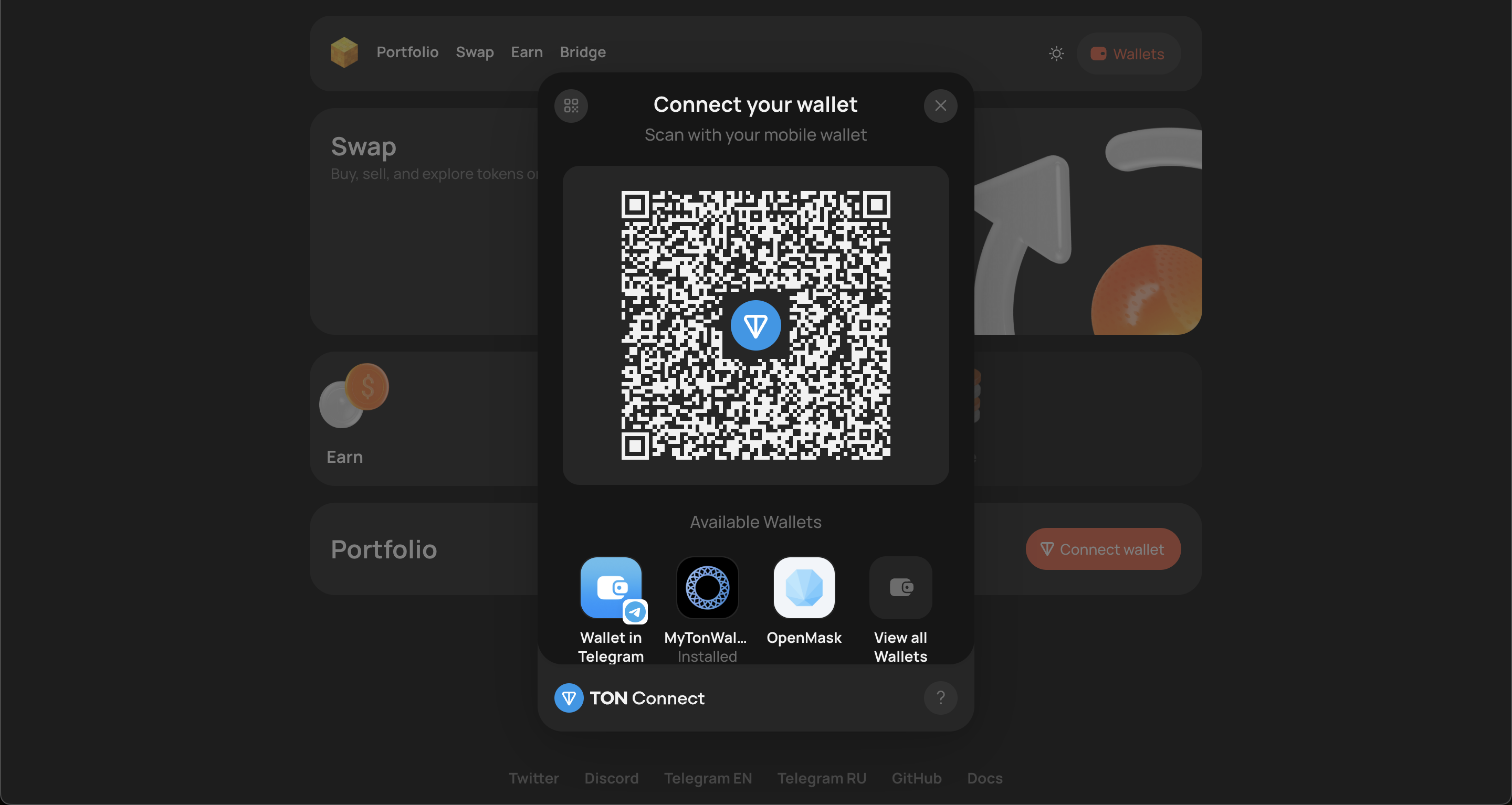 Migration of TON Libraries
Many popular JavaScript/TypeScript libraries in the TON Ecosystem, like ton, ton-core, blueprint, and ton-crypto, were developed by different teams, such as TonWhales, Orbs, and Ton Tech, and maintained by them - credit given where credit is due. But now, those libraries have successfully transitioned to shared ownership, where multiple contributors from multiple entities can collaborate.
The shared ownership version of main JS/TS libraries are hosted on ton-org GitHub
The shared ownership versions of those packages are published on NPM under the @ton organization
We urge all developers to transition to the new NPM packages, as the old ones will soon cease to be supported and be marked as deprecated.
In the spirit of decentralization, we call on teams to support this transition of popular shared libraries to shared ownership and move the original repositories to avoid unnecessary forks.
Latest Updates
Integration of Blueprint and IntelliJ IDEA – Two great tools for developing TON smart contracts are now integrated into each other. They allow you to create a new TON project in one click, use the code editor with everything you need, run tests, and compile the contract with a hotkey or, with a click on the toolbar, deploy the contract just by scanning the QR code.
Complete collection of essential Python tools and libraries for TON built by the TON community.
The beta version of GameFi SDK provides developer-friendly APIs to help interact game developers with different GameFi assets on TON, such as NFTs/SBTs and jettons (fungible tokens). An example game using it can be found here.
Compressed NFTs standard – New NFT standard to make deployment of very large collections (with millions of items) exceptionally affordable.
Ledger App for TON – The TonTech team started the development of a new Ledger App for TON that provides native support for TON assets on the Ledger hardware wallet.
Tact language supported by JetBrains IDEs now
Nujan Web IDE released. Try it with smart contracts examples, one-click integration
Vanilla JS Boilerplate – A basic and straightforward boilerplate based on simple web technologies: JavaScript, HTML, and CSS. This project aims to provide a minimalistic example of creating a simple TMA and launching it within Telegram without relying on complex build tools or bleeding-edge libraries.
Vite Boilerplate – A modern frontend tool that offers several advantages over traditional build tools, including faster development times, smaller bundle sizes, and improved developer experience. It supports React, Vue, Svelte, and many more.
Telegram Mini Apps Dev was updated, and a curated list titled 'Awesome Telegram Mini Apps' was published for all things related.
Education & Onboarding
The key focus of the TON Onboarding initiative is to develop learning materials and tools to ease development on the TON blockchain. The last quarter was very successful, with tons of new published materials.
We performed a major upgrade of the Developers Portal as a key entry point for any developer on TON.
TON Blockchain Course Release
The new TON Blockchain Course was published on Stepik in beta, with over 40 lessons, lasting almost 10 hours. With the support of the TON Foundation, the course was designed to be as close to reality as possible so that participants can work on their projects on the TON blockchain or get jobs at existing startups and funds.
Mini Apps Documentation Updates
Thanks to the experience of the latest hackathon participants and the community, we've hugely improved TON Connect documentation and released Mini Apps documentation with practical examples.
TON for Traders Showcase
Over the past 3 months, traders became active in the TON community and have shown interest in trading on TON. As we're heavily focused on making TON accessible, we immediately reacted to their needs and published new documentation to help them get started.
Grants & Bounties
Bounties Program
TON Bounties program, previously known as TON Footsteps, is an open community initiative designed to rapidly support valuable contributions, encompassing areas such as developers and community tooling, creating educational materials, and enhancing documentation and other vital community resources.
Since the program's launch, we have successfully processed more than 155 proposals, with 40 new bounty tasks being approved in Q3. In our ongoing goal to support and develop the TON Ecosystem, we are pleased to present our achievements of Q3:
Completed bounty tasks: 25 (~$53K in rewards)
Approved bounty tasks: 40
Processed proposals: 32
Developers & Community Tools
One of the areas of our focus is on providing the funding needed to simplify developers' work with TON Blockchain. Various tools, such as Native Python bindings for TON, for an entirely new approach to building on the blockchain with Python and DHT over ADNL for Node.js for efficient routing and data retrieval. It's also worth mentioning the Testnet coins faucet bot for Telegram, TON DNS Renewal tool, and many others, which save time and resources, concentrating efforts on creating quality products.
Education & Documentation
We continue to work on creating accessible and high-quality educational content to make blockchain technology more understandable for users with varying levels of expertise. This quarter, a number of bounties were allocated for the development of materials, such as TON Speedrun for beginners and the Tact language page on learnxinyminutes.com. There is great emphasis on step-by-step guides and documentation, among which you can find Telegram Mini Apps platform documentation and Developing a Telegram Bot to Check Ownership of NFT.
The TON Bounties program demonstrates our commitment to developing the TON ecosystem by supporting projects that significantly contribute to the field of blockchain technologies. We believe our support will help build a stronger, more innovative, and inclusive TON ecosystem.
We continue to invite developers and enthusiasts to apply for grants and be part of this exciting journey with us.
There are 2 ways to participate in the TON Bounties program:
Execute bounty tasks. Explore approved suggestions that need execution and get a reward for successful implementation.
Propose a bounty task. Publish your suggestion, and if the community deems it valuable, we'll connect it with a community member willing to execute it. Upon completion, we'll provide the necessary funding as a reward.
Grants Program
The TON Grants program has witnessed an exceptional influx of proposals in Q3, reflecting our community's vibrant enthusiasm and innovation. While we're inspired by the myriad of ideas presented, we encourage potential contributors to examine our Ecosystem Map closely. By identifying and addressing the missing spots, we can collaboratively ensure the holistic growth and development of the TON ecosystem.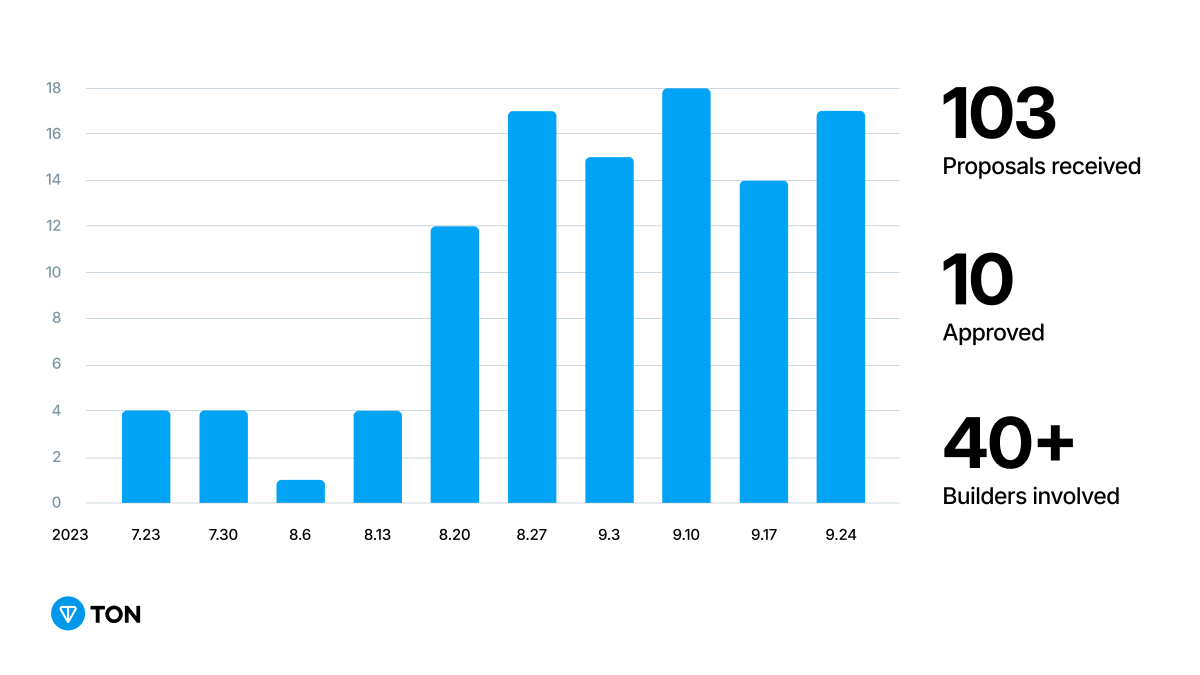 There is indeed a rise in the number of innovative projects that are pushing the boundaries of what's possible on the TON blockchain. From AI-driven models enhancing developer relations to state-of-the-art multisig wallets, the diversity and potential of these initiatives are truly remarkable. Each project addresses a unique need within the community and paves the way for further growth and integration.
Here's a closer look at some of the standout grantee projects that are making waves in the TON ecosystem:
Tali AI - An intelligent, AI-driven model designed to enhance developer relations, support, and community management. Tali instantly answers developer questions by analyzing developer docs, Slack conversations, YouTube videos, and chat messages for seamless knowledge integration and insight delivery. Implementing this bot will significantly improve the onboarding process for new builders into the TON Ecosystem and technical support initiatives. Join Tali AI Community.
Ledger App for TON integrates the latest Ledger Stax device, enhancing compatibility and security. The app will support NFTs and Jetton transfers, providing users with more functionality. Improved TON Connect support allows secure interactions with third-party services. Click here to follow the development process or join the TonTech community.
TonUp is an innovative permissionless launchpad on the TON ecosystem that is going to provide instruments supporting throughout the project launch journey, ranging from IDOs to DEX integration and beyond. By offering these critical functions, the team aims to nurture and drive the growth of projects built on the TON network, ultimately generating broader recognition and adoption for the entire ecosystem. Join the TonUp community.
Optus DEX Aggregator is a powerful tool that improves decentralized trading on the TON blockchain. Consolidating liquidity from multiple DEXs optimizes trade execution and reduces price impact. The aggregator allows users to execute trades with the best prices from various exchanges, resulting in reduced slippage and a seamless trading experience. Join Optus community.
Gatto - The first P2E game on the VK Mini Apps platform. Tamagotchis, city building, and competitions - all in one. The game uses the TON blockchain to create NFT pets and pays out tokens/TONs to users who actively play and develop their Gattomons. Join Gatto community.
QSTN is on a mission to transform the survey marketplace. By developing a Web3 platform on the TON network, QSTN will empower businesses to fund surveys, reward participants, and ensure data privacy with zero-knowledge technology. This initiative is set to create a platform that emphasizes data-driven interactions between businesses and users.
ton.app - a leading marketplace for TON apps, is already making waves in the ecosystem. The TON App team is set to integrate localization software, offering multilingual support and streamlining the translation process. Localizing content into Indonesian, Russian, and Spanish will make the TON Ecosystem more inclusive and accessible globally.
Tonkey is a state-of-art multisig wallet offering customizable authorization rules and a user-centric interface. This ensures secure and efficient management of multi-signature transactions on TON. Tonkey stands out as the premier multisig safes manager, and after a successful audit, it will be pivotal for all TON Grants & Bounties programs, with numerous projects in the ecosystem eagerly awaiting its full integration. Join Tonkey community.
TON Connect 2.0 for Telegram Mini Apps - a comprehensive communication protocol between wallets and apps in the TON Ecosystem. The updated TON Connect UI Kit for Telegram Mini Apps offers SDK enhancements, bug fixes, and a UI upgrade to support @Wallets, streamlining the user experience.
TON Tracker is set to develop a reliable and user-friendly platform for tracking key performance metrics of TON dApps across sectors like DeFi, NFT, and GameFi. With real-time updates and comprehensive metrics, the platform serves as a valuable resource for the TON Ecosystem, offering a trustworthy source for dApp statistics and metrics. It enhances transparency and fosters informed decision-making for both developers and investors.
As a builder, you can get familiar with our GitHub with detailed guidelines on all TON Grants & Bounties programs and then submit your project proposal on our Questbook page. Alternatively, if you're passionate about ensuring the highest quality in our ecosystem, join discussions on specific projects. Together, let's shape the future of TON and support the best possible ideas!
Telegram Web3 Grants
The Telegram Web3 Grants program is our strategic initiative to amplify the TON Ecosystem within Telegram Messenger. Envisioning Telegram as a comprehensive hub for everything from payments to messaging, we've tailored the program to cater to various developmental stages: grants for initial deployments or proof of concept applications, for live TON-based projects not yet integrated with Telegram, and for projects on other blockchains eyeing a transition to TON. Depending on the project's nature and category, grant amounts can range from $10,000 to a substantial $50,000 in TON.
"Today, we're launching the new grants program to encourage and support developers building within the Telegram Web3 ecosystem," said Anthony Tsivarev, Director of Developer Relations at TON Foundation. "TON's speed, scalability, affordability, and the unique user-growth opportunity afforded via Telegram is a helping hand no other blockchain system provides today. Now, more developers than ever can harness the garden of possibilities on TON and grow their ideas into real-world solutions."
For those interested in diving deeper, guidelines are available on our GitHub. We invite you to apply for a grant for integration with the Telegram Web3 infrastructure directly on Questbook.
Acceleration & Investments
Over the course of Q3, hundreds of projects contacted us for intake calls seeking acceleration, investment, or for an informational chat to understand how they can leverage the extra design space of TON and Telegram to build revenue-generating products.
Time and time again, projects referenced distribution and the ability to build a business on TON and Telegram that could reach customers that were not currently onchain as reasons that they have chosen to build in our ecosystem.
In Q3, we provided numerous acceleration and demo opportunities to raise the visibility of key projects.
You can now view these events on YouTube:
Participants in the TON Foundation Accelerator will become early integrators into key TON and Telegram infrastructure like @wallet and will also receive access to Telegram Ads, TonTech audits, and other strategic opportunities.
In addition to our internal efforts at TON Foundation, many community members hosted events to find best-in-class entrepreneurs who want to build on TON and Telegram.
TONx/BlockTempo Demo Day Taipei attracted over 100 participants from 10 teams who competed on the stage in the DeFi and NFT categories. The teams were judged by a lineup of professionals from the TONCoin Fund, TonX Studio, TON Foundation, Fritagebird Studio, and even honorable guest Sun Shisheng from the Department of Information Science. The winning team, TonFura, created a convenient Web3 infrastructure for dApp developers on TON, lowering and simplifying the threshold for accessing TON data. The runner-ups were Bulleton and Eventon. Click here to watch the event aftermovie.
We also expanded our circle of investors and partners, with TonX joining our list of accelerator partners and continuing to onboard new partners each quarter.
Finally, members of our Accelerator Cohort 1 continued to thrive and progress on their roadmaps:
The Gateway Conference

The Gateway is TON's first in-person conference, designed by and for the TON Community and sponsored by the TON Foundation. With TON Blockchain, the mission is to put crypto in every pocket by acting as a gateway to Web3 for millions of people in Telegram. The Gateway is where the TON Ecosystem comes together to collaborate on achieving that mission.
We are thrilled to invite the entire TON Community to The Gateway in Dubai on November 10-11, 2023, at Le Meridien Dubai Hotel & Conference Centre.
What to expect?
Two days packed with major announcements and exclusive ecosystem updates.
Insightful talks and discussions by key partners, investors, and builders.
Showcases highlighting innovative TON-based projects.
Booth zone featuring a variety of ecosystem projects.
With over 500 attendees, the Gateway offers a unique networking opportunity for everyone invested and interested in The Open Network. For those unable to attend in person, all talks will be live-streamed. For additional details, visit the conference website.