TON Ecosystem Report: Q3 2023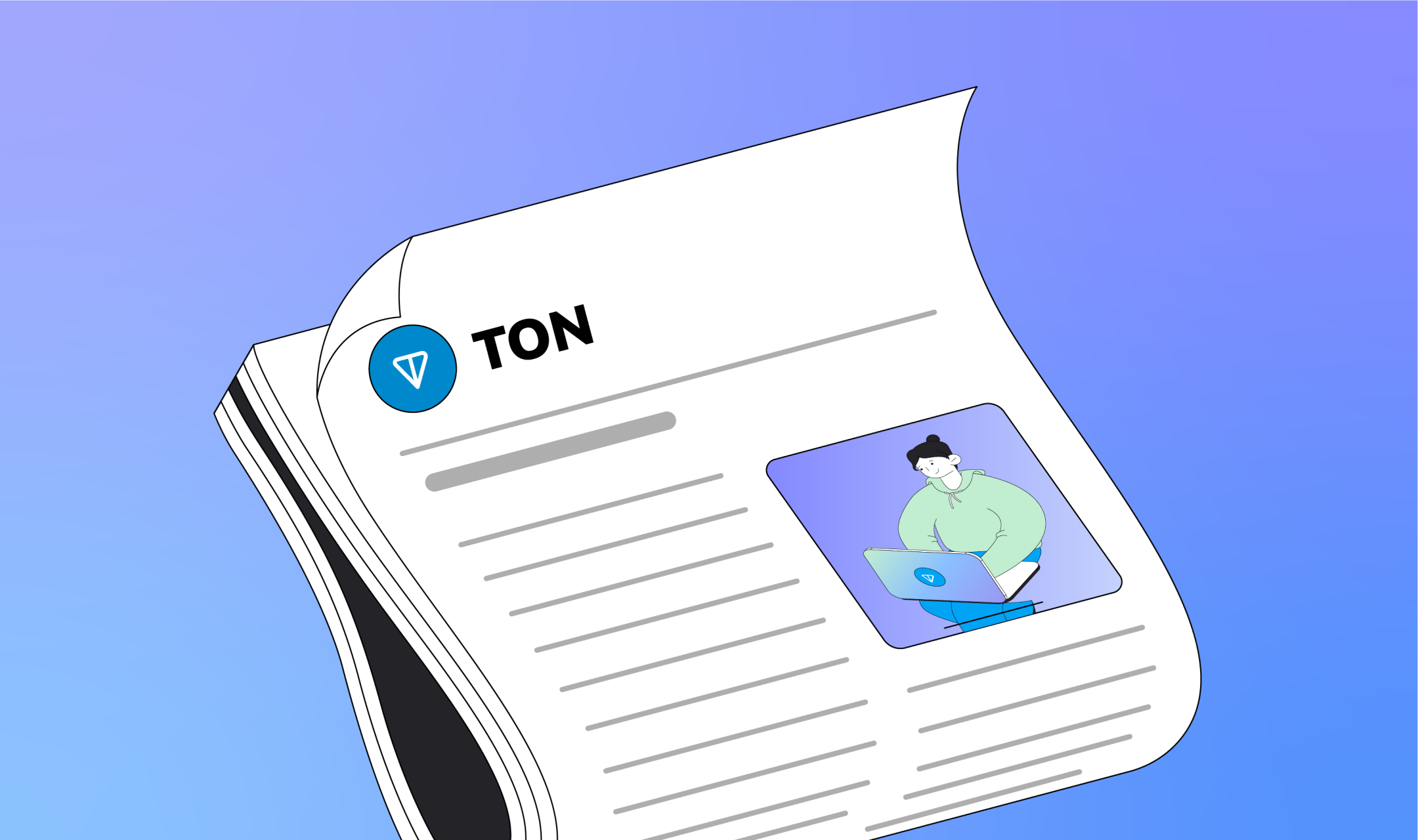 We're not exaggerating when we say the last quarter might be the most exciting quarter we've ever witnessed within the TON Ecosystem. Hundreds of builders on TON launched new amazing products, and the TON blockchain received several major upgrades. The TON Community launched an initiative with Telegram and much, much more.
But before we get to all the highlights of the past quarter, let's first explore some metrics from the recently launched tracking service TON Stat.
TON Metrics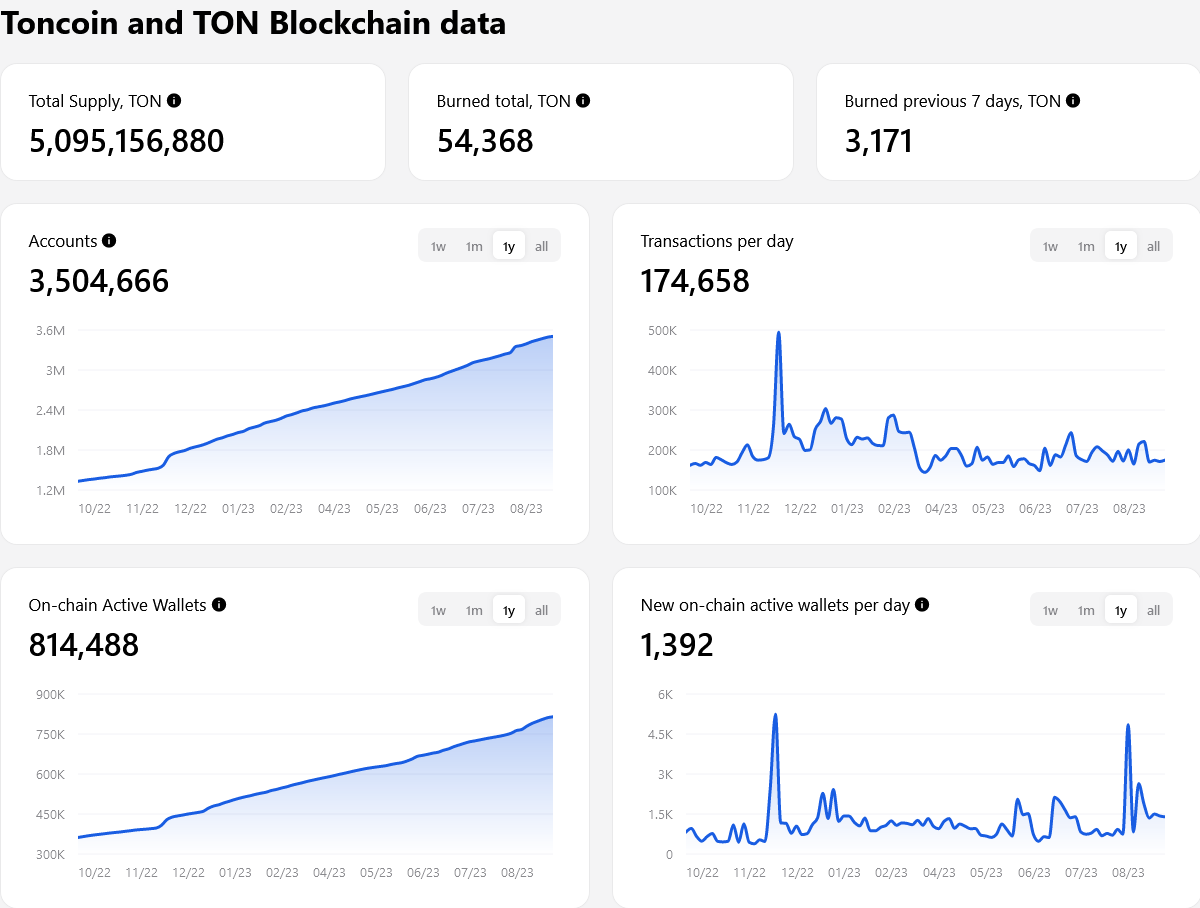 The number of TON accounts continues to grow steadily, reaching over 3.5M, while the number of daily transactions slightly fluctuates but doesn't show signs of slowing down. On-chain active wallets mirror the accounts and show signs of steady growth, with almost 815 thousand wallets. The average daily gain of new wallets is 1,392.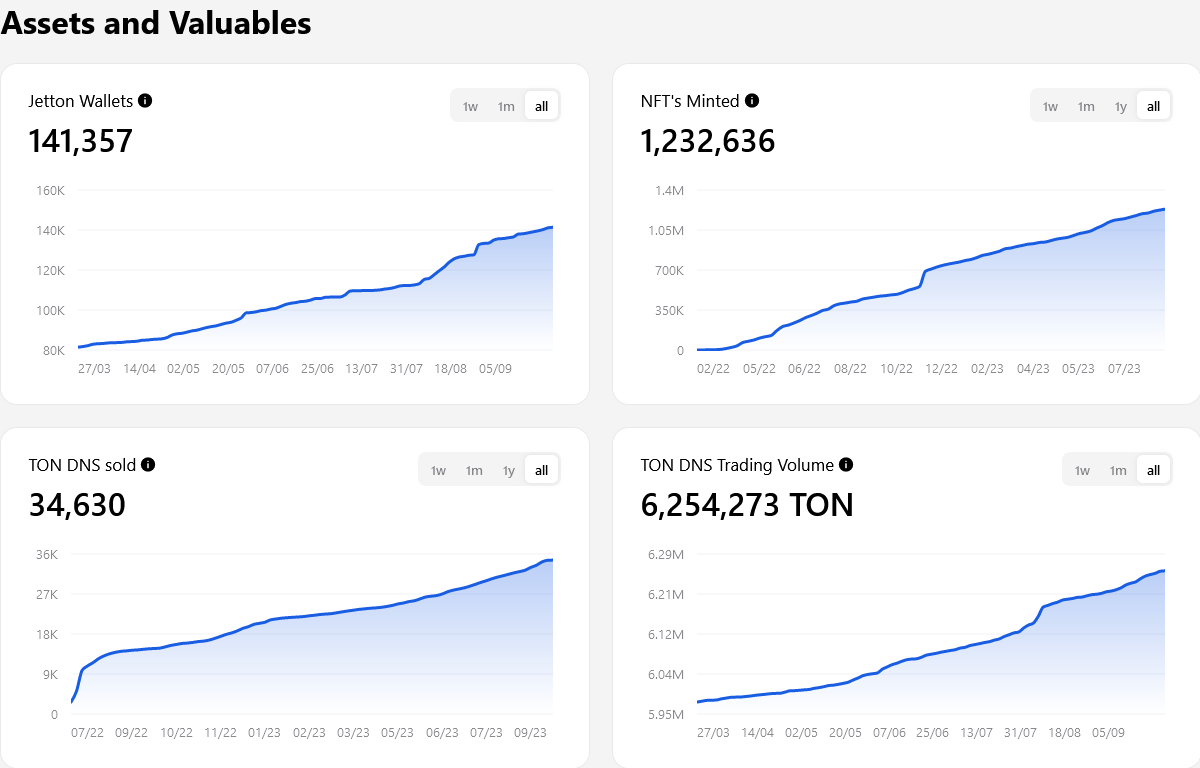 As the charts above indicate, the growth is undeniable regarding assets and valuables stored on TON Blockchain. We're observing regular and steady increases in all areas, including Jetton wallets, minted NFTs, TON DNS sales, and TON DNS trading volume.

The current number of validators is 344, spread across 24 countries, with a staggering amount of almost 500M TON staked.
TON x Telegram
Last year, Telegram allowed users to buy and sell Telegram usernames and IDs on Fragment, a TON-based auction platform. It was a phenomenal success. Auction sales exceeded $20M, and Telegram's anonymous numbers increased in value by 27 times in just nine months. But this was just the beginning.
The most significant announcement of this quarter, not only for The Open Network but for the entire crypto industry, was made on September 13 at the TOKEN2049 conference in Singapore, where Telegram and TON Community announced plans to work together. But don't take our word for it. Here's what Binance Research had to say.

This milestone is a game-changer for the TON community, as the launch of the new self-custodial wallet, TON Space, will roll out to Telegram's 800M monthly users and appear in their Telegram menu starting in November.
By 2028, Telegram is expected to reach 1.5 billion users. With this in mind, the TON Community aims to attract 30% of Telegram's active users to TON in the next 3-5 years. This is 33 times the combined active audience of the current crypto industry. Telegram will also rely on The Open Network as its blockchain backbone. The TON Ecosystem will benefit from in-app promotion within Telegram and priority placement on Telegram's global advertising platform, Telegram Ads.
The objective is to cultivate a TON-focused Web3 ecosystem within Telegram and evolve the integrated wallet into a one-stop platform for various user needs. This massive announcement immediately boosted Toncoin into the top 10 crypto projects, according to CoinMarketCup.
Click here to read the full article.
TON Believers Fund
A new initiative, believers.ton, has been introduced within the community, offering users the chance to lock their Toncoins into a dedicated smart contract for five years while earning rewards. Other users can also contribute Toncoins as bonuses for those who lock in their tokens. The more Toncoins are secured in the smart contract, the more stable and transparent the tokenomics becomes, which is crucial for network growth and drawing new members.
The initiative has been extremely successful. Thanks to the participation of large holders, the believers.ton smart contract has already accumulated more than 500 million Toncoin (which is about 10% of all existing Toncoin).
This significant achievement complements previous actions to amplify the TON tokenomics.
Click here to read the full article.
@Wallet & TON Space
Going forward, existing and new @wallet users can access TON Space to become independent custodians of their private keys and assets - eliminating the need for middlemen and offering a trustless experience.
TON Space is a self-custodial software wallet that's seamlessly integrated into Telegram's @wallet feature, enabling users to manage, send, receive, and store their assets without leaving the Telegram app. Starting in November, TON Space will automatically become available to Telegram's 800 million monthly users, except in certain regions like the United States. This is a monumental move toward the TON Community's ultimate goal: making crypto accessible to everyone.
And the advancements don't end there. TON Space will also support the transfer and viewing of NFTs, being a complete wallet for cryptocurrencies, NFTs, Jettons, and DNS.
Not your keys - not your coins. Try TON Space now!
Wallet Pay
Another major update for @wallet is the introduction of a new UI 3.0 and the launch of Wallet Pay, a revolutionary cryptocurrency payment service for e-commerce and services.

This unique tool integrates seamlessly with any Telegram bot or app, allowing users and customers to easily make payments in Toncoin, USDT, or Bitcoin directly through the Telegram messenger interface.
We invite you to explore the Wallet Pay website to learn more about everything it can do or read the announcement article.
Telegram Mini Apps, Bots & tApps Center
Telegram Mini Apps
Telegram Mini Apps platform and the new Wallet and TON Space features allow third-party developers to build various services integrated with Telegram and introduce a whole new Web3 dimension to hundreds of millions of Telegram users.
Telegram Mini Apps are becoming a trend - popular rating catalogs Coingecko and CoinMarketCap have introduced separate pages for Telegram bots and apps to track this thriving ecosystem.
tApps Center
On August 17, we introduced the new catalog for apps, games, and bots, called tApps Center. The tApps Center aims to simplify the exploration of Telegram bots, games, and apps and support developers in bringing their visions to life and attracting new audiences. A quick and easy submission procedure, aided by the dedicated Apps Moderation Bot, ensures this.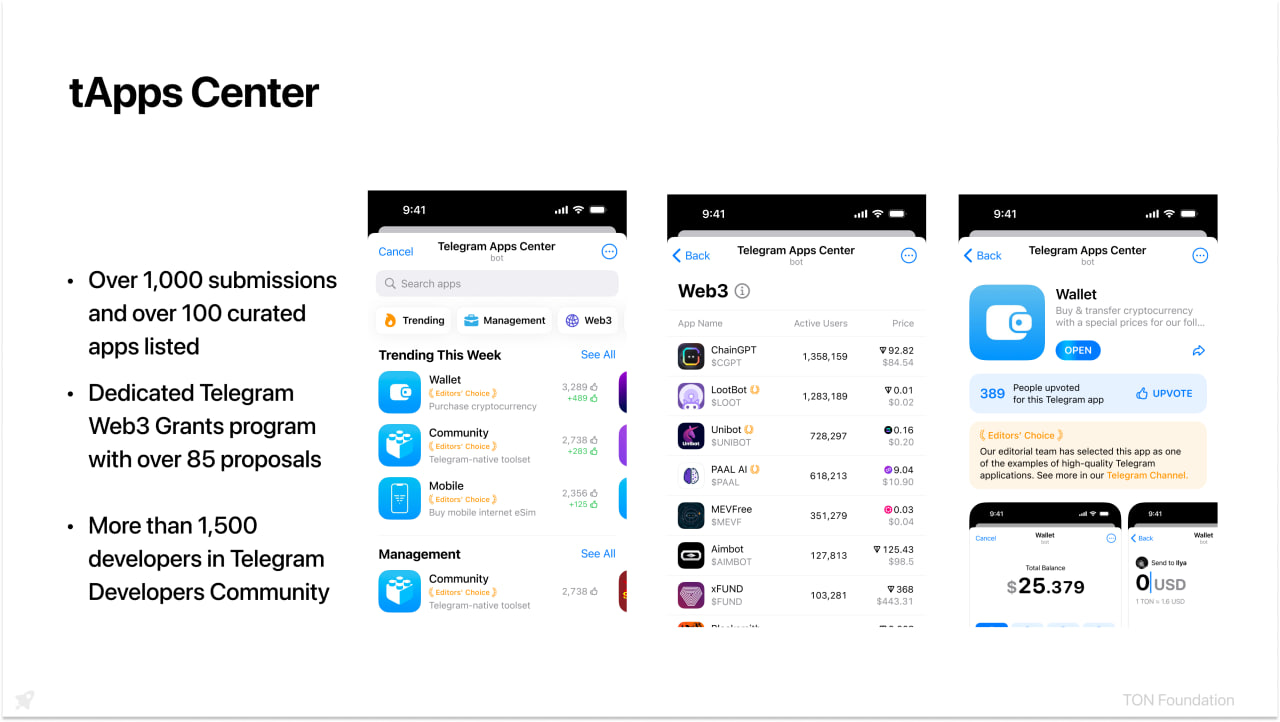 By working with Telegram's platform, developers can access its vast community of users and existing tooling. Prioritizing user privacy and security, the center offers a reliable space for developers to present their novel creations and provide positive experiences to users.
Click here to read the announcement article.
Tencent Cloud Partnership
With the new strategic partnership between Tencent Cloud and TON Foundation, we're pushing for further support for developers in Asia. For example, Telegram games built on TON can benefit from Tencent Cloud's enriched gaming solution and reference cases. For all projects built on TON, Tencent Cloud will offer, subject to approval, a dedicated amount of cloud credits and product discounts made available through the Tencent Cloud Startup Program.
This will help projects scale more efficiently, decrease operational costs, and provide a seamless user experience.
Development
TON Connect
Teams working on TON-enabled wallets pushed themselves over the past three months, and we are pleased to report that all popular TON wallets now support TON Connect. Additionally, TON Connect has been integrated into all ton.org services (such as TON Domains, TON Bridge, etc.) and most of the popular network products.
From now on, the Telegram Mini App and TON Space can also communicate via TON Connect. This achieves a unified method of connecting services and apps to wallets, regardless of whether the wallet is a mobile or desktop application, a browser extension, or a hardware device.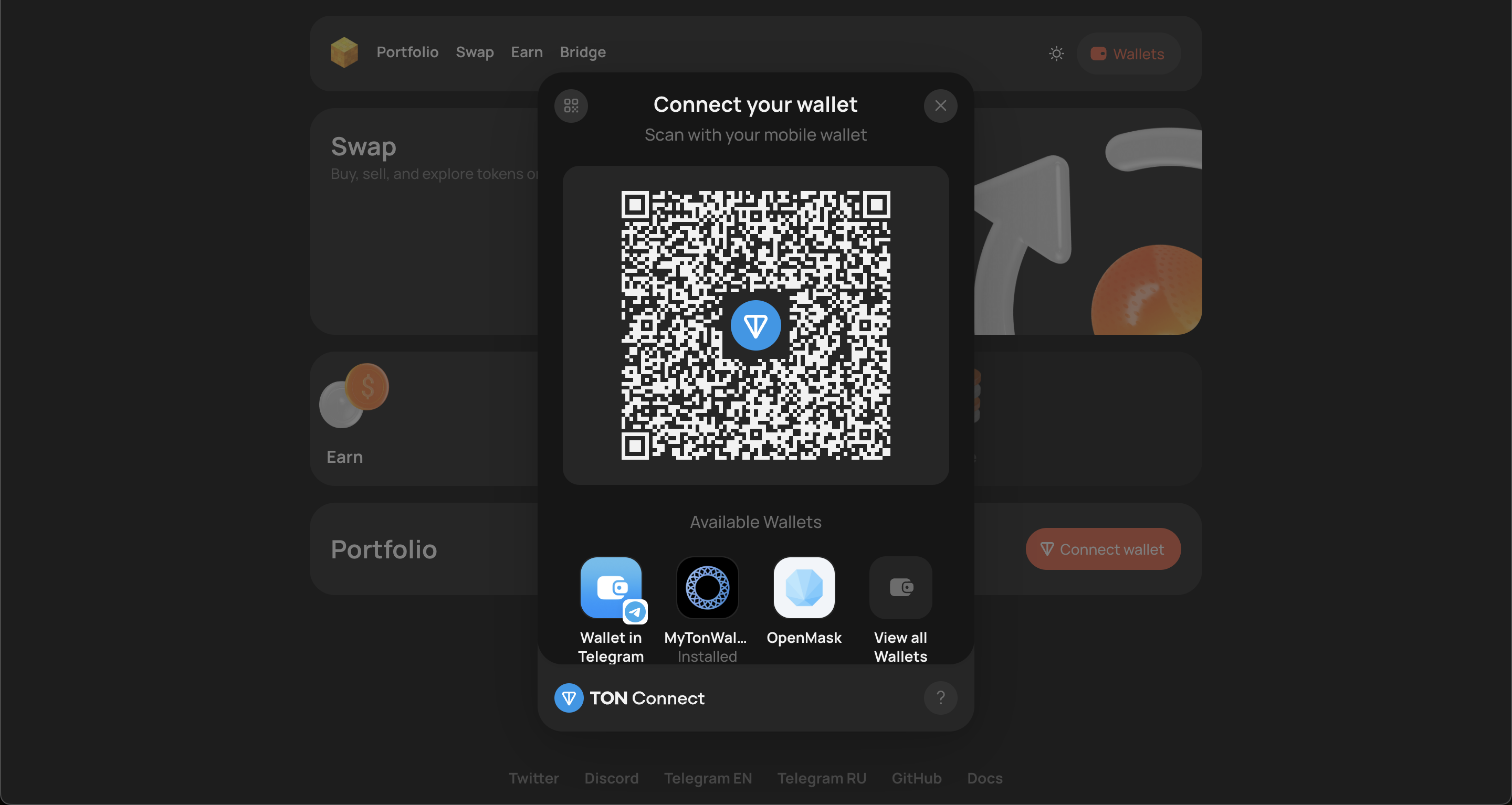 In addition, we updated the TON Connect UI guidelines and published new SDKs. The TON Connect documentation has also been improved. If you're new to TON Connect or want to understand its functionality and vision better, read our article TON Connect - The Future Without Passwords.
Liquid Staking on Tonstakers
The staking platform, Tonstakers, is now live, offering user-friendly staking enabled by cutting-edge TON smart contracts. The service supports an unlimited user base, allows a minimum staking amount of just 1 TON, and provides the option for immediate withdrawals.
Tonstakers is built in alliance with the TON Core Developers team, open-source, audited, and non-custodial. Discover all the benefits on the Tonstakers website.
We can't forget to mention that Tonkeeper, a widely-used TON wallet, has already integrated Tonstakers staking into its interface.
Bridge Update
We updated the TON Bridge that facilitates asset transfers across Ethereum, BNB Smart Chain, and TON networks. It's more versatile than ever, supporting WalletConnect and TON Connect, and is mobile-friendly. Additionally, it enables fast and affordable transfers of any compatible ERC-20 token between Ethereum and TON.
Developer Tools
This report briefly covers the developer tools topic, but if you want to dive deep into our Q3 development progress, read the TON Developer Report: Q3 2023 here.
Integration of Blueprint and IntelliJ IDEA
Blueprint and the TON plugin for IntelliJ IDEA, two great tools for developing TON smart contracts, are now integrated into each other.
Create a new TON project in one click, use the code editor with everything you need, run tests, compile the contract with a hotkey or with a click on the toolbar, and deploy the contract just by scanning the QR code.
Invention of Compressed NFT
Krigga, a regular GitHub contributor, proposed a new type of "lightweight" NFT standard for large collections, easily scaling to thousands and millions of items. The new approach has achieved impressive benefits where you can create massive collections (as big as 1 billion items) with an affordable fixed deployment cost independent of the collection size.
We expect this new approach to be widely used alongside standard TON NFTs.
Events
Developer Contests
In July, the winners of the "Telegram Web Applications based on TON" developer contest were awarded with a prize fund of $60,000. A new "Telegram Mini App Contest" for developers with a $50,000 prize fund from the Telegram team is underway right now.
Another live event that you can join is the TON Tact Challenge, with $30,000 in prizes for seasoned professionals and curious newcomers who want to learn a new programming language and compete for money at the same time.
We covered all major events that happened in Q3 in our recently published TON Developer Report: Q3 2023. Click here to get into the details.
The Gateway

The Gateway is TON's first in-person conference, designed by and for the TON Community and sponsored by the TON Foundation. With TON Blockchain, the mission is to put crypto in every pocket by acting as a gateway to Web3 for millions of people in Telegram. The Gateway is where the TON Ecosystem collaborates to achieve that mission.
We are thrilled to invite the entire TON Community to The Gateway in Dubai on November 10-11, 2023, at Le Meridien Dubai Hotel & Conference Centre.
What to expect? Two days packed with major announcements and exclusive ecosystem updates. Insightful talks and discussions by key partners, investors, and builders. Showcases highlighting innovative TON-based projects. Booth zone featuring a variety of ecosystem projects. With over 500 attendees, the Gateway offers a unique networking opportunity for everyone invested and interested in The Open Network. For those unable to attend in person, all talks will be live-streamed. For additional details and tickets, visit the conference website.
Please note that the tickets are selling out fast, and with limited spaces, we expect the availability to disappear shortly.
Conclusion
In conclusion, the third quarter of 2023 has been an unprecedented period for the TON Ecosystem. From robust metrics signaling unwavering growth to groundbreaking initiatives like the TONxTelegram, the future couldn't be brighter.
The various community initiatives and strategic alliances, including the Tencent Cloud partnership and the believers.ton fund are clearly a testament to TON's continually evolving ecosystem. Innovative tools and services, like Wallet Pay and TON Space, set the stage for TON's expansion, making crypto more accessible than ever before.
In line with these accomplishments, our statement from earlier this year proves that we do as we say:
"TON is the only modern blockchain finding new, sometimes unexpected, ways to attract users. In the second half of the year, we aim to surpass all of our previous efforts to bring even more users to TON."
From scaling to a broader audience with Telegram's 800 million users to diversifying assets through NFTs and secure staking platforms, TON's versatility is its strength. Its potential to integrate with existing platforms and services is unmatched, promising a future where TON is not just a part of the crypto conversation but leads it.
So, if the thrilling developments of this last quarter are any indication, it's safe to say that TON is setting new industry standards, and the best is yet to come.